Guillem Balague blogs on Lionel Messi's record-breaking genius, plus the form of Falcao and Ozil
Guillem Balague blogs on Lionel Messi's record-breaking genius, plus the form of Falcao and Ozil.
Last Updated: 10/12/12 3:09pm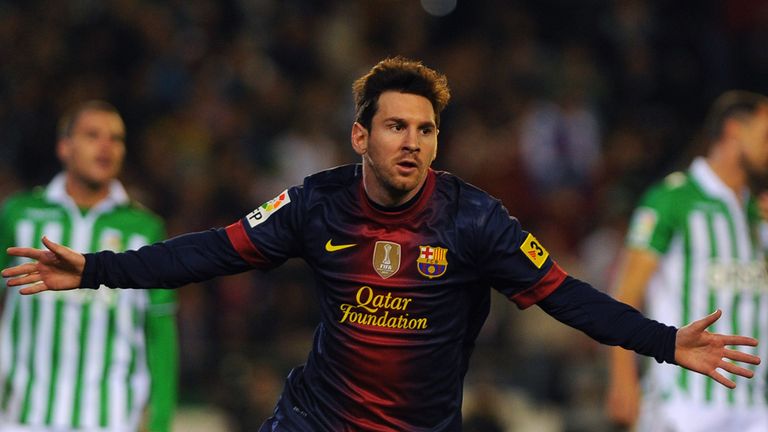 Even back then he was playing in the way that he does now - week in, week out - and he certainly hasn't disappointed!
Pep Guardiola realised in the last couple of months of his tenure that Messi was saturated and needed a little bit of 'fresh air' and Tito Valanova has supplied it by giving Messi the freedom to do whatever he wants.
Now whenever he intervenes in play, every action has meaning and threatens danger; as his record goal-scoring run proves, he has become the ultimate forward.
Even Messi can't do everything on his own and he was helped on Sunday against Real Betis by the movement of Alexis Sanchez, who cut inside and took the full-back with him, giving Messi the space he needed for his first, while Andres Iniesta's back-heel set up the second.
So it definitely helps to have the calibre of players around him that Barcelona possess - but that doesn't mean we aren't seeing something completely unique.
Licence
Unique is also a word that applies to Radamel Falcao's finishing.
There is a false debate doing the rounds at the moment asking whether he is the best striker in the world. When debates like this crop up we have to look at them through different eyes, because Barcelona (and Messi) have proved that you can be a striker without being a number nine.
That said, Falcao has to be up there with Messi and Cristiano Ronaldo when you analyse his sharpness and effectiveness.
Interestingly enough, I think that if Ronaldo was a number nine - and only a number nine - he would be as good as Falcao.
Anyway, Falcao is helped by the fact that Atletico Madrid boss Diego Simeone asks him to stay around the box and to play with only one or two touches; if he sees goal, he has the licence to go for goal every time he can and everybody will forgive him if it doesn't go in because when it comes down to it, his fellow players know that he makes the difference to their fortunes.
Demands
Mesut Ozil completes the trio in this week's tale of three players.
This season is an emotional roller-coaster for him. Jose Mourinho keeps on giving him the stick, with the occasional piece of carrot thrown in, and when he scores - as he did twice against Real Valladolid - the coaching staff, in this case assistant coach Aitor Karanka, who did the press conference, say that he defended well!
But that's how Mourinho works; he demands absolutely everything from everybody at all times.
That's why his regimes don't tend to last as long as they might; he is constantly asking for more from the players, the staff, the fans and even the media!
Interestingly, Guardiola could have signed Ozil before Real Madrid but decided not to. Was that a mistake? Or was the simple fact that he had enough players?
Result
It's official. The winner of this year's Ballon D'Or has been decided. The trouble is, nobody's saying who has won and nor will they until January 7.
I'm indebted to fellow journalist Paul Kelly, Ireland correspondent for the publication France Football and one of the voters for the eventual winner, for putting me right, after I suggested that Cristiano Ronaldo's goal in the Madrid derby would help his chances in the 2012 poll.
Paul tells me that the voting closed on November 8, so no performance since then will count in the final analysis.
The names of Iniesta, Messi and Ronaldo published last week sounds like a final shortlist for voters to choose from, but in reality the result is known at this stage. It's just that FIFA and France Football won't release it until January 7.
He also goes on to explain the history of the award and just how the votes are cast for the eventual winners.
Between 1956 and 2009, he tells me, the Ballon d'Or was organised by France Football with the vote being confined to football reporters only and that the vast majority of selections were very worthy.
For example, Matthias Sammer won the award in 1996 following his starring role in Germany's success in the 1996 Euro finals and Borussia Dortmund's second Bundesliga crown in succession.
However the same year in FIFA's World Footballer of the Year, elected by national team coaches and captains, it finished 1. Ronaldo; 2. Weah; 3. Shearer, with Sammer not making it into the top three.
In 2010 FIFA bought the prize from the Amaury Publishing Group and it is now voted for on the same basis as the former FIFA prize.
The electorate now consists of three colleges; journalists, (whose votes are collected by France Football), national team coaches and national team captains, (whose votes are gathered by FIFA).
Messi won it in 2010, ahead of Xavi and Iniesta, but in fact under the old system it would have been won by Sneijder who received the journalists' vote that year.
In Paul's opinion the change in format since FIFA bought the prize has tended to favour the biggest name contenders.
The old Ballon d'Or 1-5 voting system up to 2009 was more subtle: a fourth preference (worth two points) could influence the outcome, whereas the current system (worth five, three, and one points/point respectively) is less sophisticated.
It is also worth noting that there have been some glaring omissions in the 23 strong short list (down from 30 since FIFA took charge of the award). Diego Milito's exclusion in 2010 was beyond belief, while David Silva's failure to make the list this year was hard to fathom.
The same goes for the coach award. Sir Alex Ferguson won nothing in 2012 but was listed, unlike trophy winners Simeone, Girard and Renard who failed to make the list.
And before you ask how Paul and his colleague Jimmy Magee, who made up the Republic of Ireland jury, voted you should know that voters are not allowed to disclose their choices prior to the result being published so I'm afraid we'll all have to wait until January 7!
Guillem answers your questions...
Got a question for Guillem? Then send it toskysportsclub@bskyb.com or use the feedback form below, and then look out for his answer next week.