Guillem Balague: Neymar's contract ends Sandro Rosell's reign and Barcelona in for big summer spend
Plus our Spanish football expert answers your questions on Bale, Casillas, new arrivals at Barca and more...
Last Updated: 28/01/14 7:22am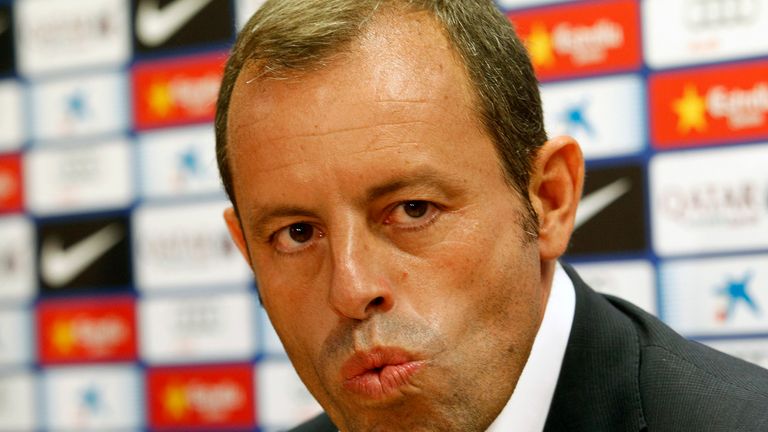 Cases was interested in the strange clauses in Neymar's contract and was keen to find out the real costs of the player as the €57.1million stated by the club was being put nearer €90-odd-million in the press.
He became annoyed when he didn't receive any answer from the club and felt this was unfair for a club owned by the season ticket holders, with directors chosen by season ticket holders. So he decided to go to the board for an answer and the judge realised that there was a case to answer, expressing doubts about the amount received by Santos and requested that all the paperwork be handed over.
That's as far as it has gone and in fact, this week Jordi Cases will probably drop the lawsuit but in the meantime it's created a knock-on effect which has ended up with the resignation of Rosell because he felt it was unfair that he was being accused of any wrong-doing.
Hidden
The accusation of the public prosecutor is that there is misinterpretation of funds on the variation of 'simulated contracts'. Which basically means that they put clauses in there that are in reality part of Neymar's wage. It does not mean that anyone from the club has taken any money from the club, or any money has been hidden, or paid to secret commissions.
The main issue is that some of the clauses suggest that Neymar is being paid extra in wages, things like the €40million paid to his Mum and Dad's company N&N, and where does that money go? Well it has been suggested that this is part of his wages and the club is saying 'no, no, no, it is a company owned by his Mum and Dad and has nothing to do with Neymar...'.
I think the problem is going to be with the tax man who is going to say if this is wages, it's going to have to be paid as wages, not with this other variation which both the club and player have to pay less tax on.
But then Rosell resigned - we're going to be talking about that on Revista (6.00pm, Tuesday, Sky Sports 1) . The main reason he's given it is because of threats he's received and there were airguns shot at his house, albeit as a bit of joke - that is criminal activity of course - but he's been having these threats for months. So why now, when on Monday he said: 'If the judge wants to take me to court I'm willing to go because I haven't done anything wrong,' does he go and resign on Thursday.
Revenge
My interpretation of it, having spoken to everyone involved and having had conversations with Rosell in the past, is that I'm not sure he actually went in gladly to the job of being a president and I think part of the motivation was revenge against the former president, Joan Laporta.
Another reason, I believe, is that the people that were behind him - important political and financial Catalans - stopped backing him last week. Another is that he perhaps didn't need all the pressure and wanted to keep his anonymity, protect his family but also I don't think he was that in love with the job.
He'd found a lot of what he considered enemies so his circle was becoming smaller and smaller and he was at the top on his own and that may have been the situation he wasn't happy with.
Guillem answers your questions...
Got a question for Guillem? Then send it in using the feedback form below, and then look out for his answer next week...
ARE LIM'S QUIDS IN?
Guillem, I am a dedicated Valencia fan living in the USA and am turning to you to see if you can shed some light on what is going on over there. There seems to be no indication of what is actually going to happen to the club. We read loads of press about Lim's supposed offer to buy the club and provide a massive transfer budget but now there are some other unnamed bids which I read are supported by Manuel Llorente and Carboni. Is Bankia ever going to finalize the sale and will it be in time to affect the January transfer window, if the new owner even wants to make a transfer budget available. If we want to compete this season we need something. I am sure I echo every fan when I ask you to please shed whatever light you can on the situation! el rubio
GUILLEM SAYS: This is another very complicated situation but Bankia, who the club owes almost €300million, are deciding who is going to be their new owner. Peter Lim, who had been one of the more vocal and popular people to put in an offer forward is at the bottom of the list now and the pressure from Valencia President, Amadeo Salvo, is for the Lim offer to be accepted partly because he feel he will continue the job and partly because he feels that Bankia have got a hidden agenda that doesn't coincide with the job.
All that is going on and in the meantime there is a lot of disscussion going on about how many offers there were and Amadeo Salvo is trying to create a whole campaign to stop the bank. For fans there is nothing is going to happen definitely before the end of the transfer window and this is for the future of Valencia so shouldn't be rushed.
BARCA'S BIG SUMMER
Hi Guillem, absolutely love your column as well as the insight you provide British viewers on all the going ons in La Liga. I keep hearing rumours that River Plate defender Eder Alvarez Balanta is Barcelona bound in the summer. With Barcelona in so dire need of a centre back, is this a likely possibility, or will they go for someone a lot more established such as Inigo Martinez from Real Sociedad? Keep up the good work.Shem
GUILLEM SAYS: Barcelona are going to sign a player in each position. Ter Stegen is going to be their goalkeeper, there are a bunch of five or six players listed potentially to be centre-back - Inigo Martinez and David Luiz and yes, Balanta is on the list as well but nothing is confirmed yet. They're trying to get a different kind of midfielder and they're trying to get a forward as well, so the biggest changes of Barcelona in recent times are going to take place this summer.
CASILLAS CHALLENGE
Hi Guillem, how r u doing I hope you're fine, I just want to know the situation about Iker Casillas, he is a world class goalkeeper no doubt about that , but the situation remain same even though Mourinho left the club last season , we hope a bit difference , but nothing has changed yet of the arrival of Ancelotti, he is still on the bench , can u please explain for me what is going wrong? And why he is benched? young boy
GUILLEM SAYS: For political reasons and for footballing reasons Ancelotti has decided that Diego Lopez is his goalkeeper, we've explained that in details in the past. Now, a lot of people are telling Iker Casillas to go and find another challenge in your life. He's just become a father, he's got to think about that, but he will have offers from England for sure; City would like to convince him. Let's see what happened with Victor Valdes - he's had a huge offer from Monaco and he doesn't accept and goes somewhere else, then Monaco will come in for Casillas and if he feels he's not going to play regularly next season he will move. There's still a lot to decide and a lot of teams may want Diego Lopez as well. We'll see what happens, but in any case he's never been closer than he is now to move and his head is coming around to the fact that is could be a good challenge at his age but nothing has been decided.
BALE OUT
Guillem, what do you think of Gareth Bale so far at Real Madrid? Is his partnership with Ronaldo going to become even stronger and prove to be better than Neymar/Messi?Jordan
GUILLEM SAYS: Bale won't be available for the Espanyol game, let's wait for confirmation from Madrid but that's what is coming out of the camp. He went to training today and decided that he didn't want to start. Last time he got a knock he was out for three weeks. He's a man that needs to feel physically perfect, like a Formula One car, otherwise he suffers and it is preferred by him and medical staff that he doesn't play.
This is a year where he will be putting the foundations down for the coming seasons but he still certainly doesn't get involved enough in the game, the defenders have got him now and are trying to show him outside all the time and when he comes inside he comes across three people stopping his runs; something that didn't happy in England. I think the defensive structures in Spain tend to be better and they've got the better of him. We won't see the best of Bale until next season and we said that at the start, we have to give him a year to adapt. But 100 per cent, Madrid are looking after him, Luka Modric and Ronaldo especially.