Lionel Messi is included in the Barcelona squad for the game against Real Betis
Lionel Messi has been included in the Barcelona squad for Sunday's Primera Division clash at Real Betis.
Last Updated: 08/12/12 4:23pm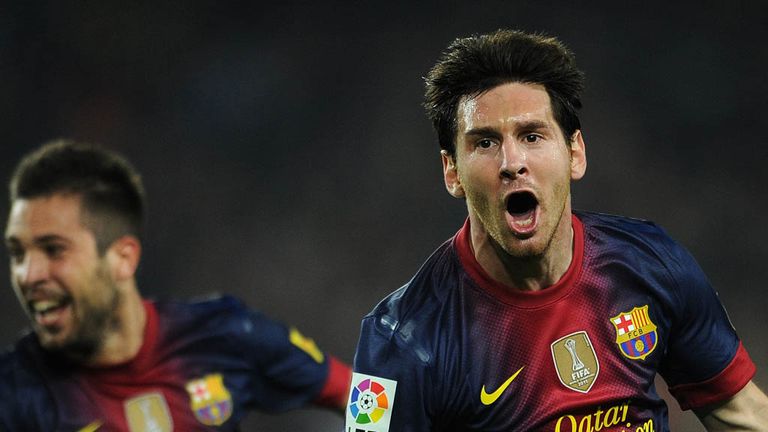 Messi, who is one goal shy of Gerd Muller's 1972 record of 85 in a calendar year, suffered a major injury scare in the closing stages of Wednesday's goalless final Champions League group game against Benfica at the Nou Camp.
The 25-year-old left the pitch on a stretcher in the 84th minute after colliding with visiting goalkeeper Artur, silencing the home fans, but there was relief soon after with the club confirming the injury was no worse than a bruised left knee, and he has been included in Vilanova's squad for the game at the Estadio Benito Villamarin.
"If Messi travels it's because he's ready to play," Vilanova said today at his pre-match press conference. "If there was the slightest risk, he wouldn't be going.
"He completed training on Saturday without any kind of trouble. There are still a lot of hours until kick-off and we'll all evaluate the situation together and decide whether he'll play the full 90 minutes or just part of the match.
"The important thing is that he's feeling okay. But he could easily wake up in the morning and tell us he's feeling pain again."
Should Messi not feature, it would remarkably be the first time he has missed a game due to injury in over two years.
Vilanova continued: "I think Messi was comforted when he found out that it's not a serious injury. If he wants to be in the squad because he's not feeling any trouble, then so much the better for us.
"But he doesn't need to make this kind of effort to show how much he loves this sport."
Wing-back Dani Alves (hamstring) and forward Alexis Sanchez (foot) have been included in the 19-man travelling party as well, while defender Marc Bartra has also been given the medical all-clear after a leg problem.
Barca will be aiming for their eighth straight away win - a feat which would extend what is already the best-ever start to the league season and edge them closer to the club record of 10 consecutive victories on the road, set by Pep Guardiola's side in the 2010/11 campaign.
Betis central defenders Paulao, Mario and Damien Perquis have all been passed fit and coach Pepe Mel must now decide whether to recall any of the three ahead of Antonio Amaya and Chechu Dorado, who have started the last two games in La Liga.
Winger Sergio Rodriguez and defender Alex Martinez are still sidelined through injury, though.
Whoever turns out for Betis, Vilanova expects a tricky encounter.
"With Pepe Mel they have always made things hard for us," the former Barca assistant said. "One of my worst moments on the bench in recent years was a cup match away to Betis (a second-tier Betis side beat Barca 3-1 in the second leg of a 2011 Copa del Rey quarter-final).
"We haven't beaten them on our last two trips there, and we have to remember that this season they have already beaten Real Madrid. They create a lot of pressure up front and it's not easy to play comfortably against them."
Mel's side suffered a 5-1 derby thrashing against Sevilla at the Ramon Sanchez Pizjuan last month, but hit back by beating champions Real Madrid 1-0 and then prevailing 3-2 at Deportivo La Coruna last weekend.
And Mel has declared his fourth-placed team will not be overawed when they take on the leaders.
"We've always played Barcelona as equals," he said today. "Usually we have lost, but we have always done the same. Nothing changes. We will go home knowing we have been ourselves. Otherwise we would betray ourselves and lose what we have achieved so far."
Mel is well aware of the threat posed by Messi, but acknowledged Barca were far from a one-man team.
"The club is not just about Messi," he said. "They have Xavi, (Andres) Iniesta, Cesc (Fabregas), Pedro (Rodriguez), (Sergio) Busquets, (David) Villa... and several others - all of a very high level."