Valverde Returns To Athletic
New Athletic Bilbao coach Ernesto Valverde is hoping to disprove the old adage that you should never go back.
Last Updated: 21/06/13 5:09pm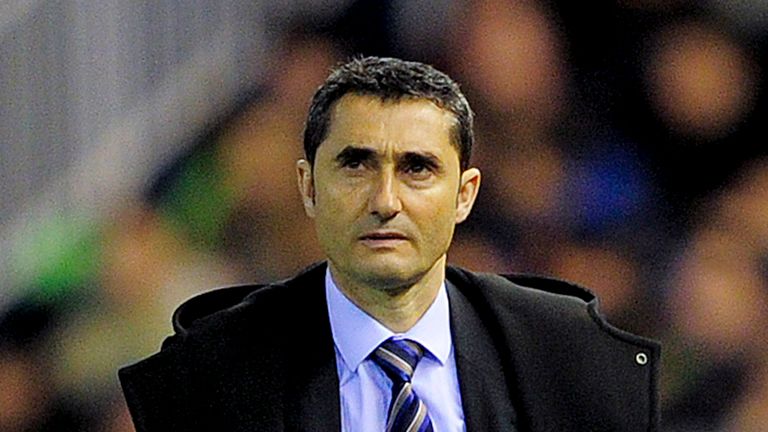 Valverde was officially presented by Athletic on Friday afternoon as the replacement for Marcelo Bielsa, who parted company with the club earlier this month after two mixed years in charge.
The 49-year-old Valverde is no stranger to Athletic having represented the club as a player and also as first-team coach from 2003-05, and he knows the pros and cons associated with returning to a former club.
"It's a very big responsibility for everything that Athletic represents," said Valverde, who led Athletic to a fifth-placed finish in 2004 and a place in Europe.
"I also know that for me it's the sequel, which are said to be not as good (as the original), except for 'The Godfather'.
"It seems it will be more difficult because you need to meet expectations, but I'm looking at that as a challenge more than anything else. I see it as something positive, not negative.
"I want to thank Athletic for thinking of me to be coach again. It makes me feel very fortunate as there are millions of coaches who would like to be in my position."
Valverde, who left his post as Valencia coach after Los Che missed out on the Champions League places on the final day of the Spanish season, takes over an Athletic side who had two wildly contrasting seasons under Bielsa.
In his first campaign Bielsa led the club to the finals of both the Europa League and Copa del Rey and, although they lost both matches, Athletic gained plaudits across the continent with their exciting brand of attacking high-tempo football.
Those were hugely promising signs but they could not build on that initial success last season as the club were knocked out of Europe and the Copa del Rey at the first hurdle and found themselves fighting against relegation from the Primera Division until the final weeks of the season.
Athletic, one of only three clubs never to have been out of the top flight, ended up finishing in 12th spot, nine points above the drop zone.
Despite those struggles, Valverde is optimistic about the future.
He said: "There are positives things that we will try to maintain and other things which I don't like we'll do in a different way.
"We all want that our team tries to impose itself on our opponents. I like the team to be aggressive in attack and defence.
"We have the potential to do things, although the statistics from this season are what they are.
"It's a young team which can move forward."