Barcelona: Guillem Balague says Camp Nou side will buy in bulk in summer transfer window
Revista regular reckons Catalans will get edgy if they ship goal early against Man City
Last Updated: 10/03/14 1:50pm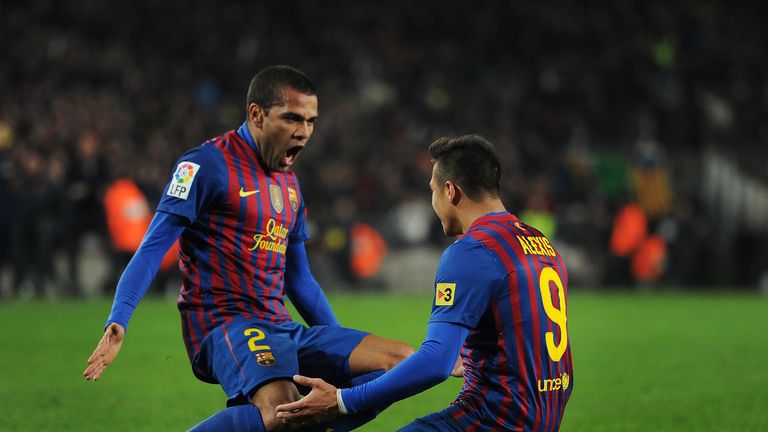 The media normally backs the team but on this occasion the cover story of Sport said the players threw the league and they are embarrassed.
The finger of blame is being pointed at the Barcelona players when two weeks ago - when they lost to Real Sociedad - it was being pointed at the manager.
But there is not just one single thing wrong with Barcelona.
There is a lack of leadership on the bench, on the pitch and at the club so they are trying to find their feet, and what we are seeing is a team that is far too relaxed - they are a side without intensity and with few demands tactically and physically.
The players have been rotated but do not find themselves sharp and all that points to the methodology and training during the week.
Individuals
Clearly they didn't prepare anything for Valladolid - partly, of course, because most of the players were on international duty - and they didn't know how their opposition played.
They thought, as they have all season, that with their usual way of playing that one or two of the individuals would come out and they would beat anybody.
There are big decisions that need to be taken with regards to the squad for next season, too.
They include perhaps selling the stars, possibly Dani Alves or Alexis Sanchez, but NOT Lionel Messi, who has NOT received an offer from Manchester City.
There will be changes, with four or five players coming in and going straight into the line-up.
Protagonists
Valladolid played two strikers - Javi Guerra and Manucho - versus two centre-backs against Barcelona and they held the ball well when it went long.
I do not know why Manchester City did not do that in the first leg of their Champions League tie.
They needed to come out with two tall strikers, like Alvaro Negredo and Edin Dzeko; put Barcelona under pressure; and keep the ball, and they are going to have to do all of that to win on Wednesday.
They are going to have to want possession, to be the protagonists, to attack from minute one without fear and to not show the excessive respect they showed in the first leg.
If the first goal is scored early by City, anything can happen because the confidence is waning for Barcelona and you will be able to feel the tension.
Guillem answers your questions...
Got a question for Guillem? Then send it in using the feedback form below, and then look out for his answer next week...
CHEERIO TATA?
Hi Guillem, Do you think Tata Martino will get sacked in the summer and if so would Barcelona go after a manager like Jurgen Klopp or Frank de Boer? Many thanks, David
GUILLEM SAYS: I don't think Tata will be sacked and they are trying to keep him until the elections in 2016 but if Barcelona get knocked out by City or something drastic happens in the next month or so, there are lots of people who want to force the board to do early elections. Josep Maria Bartomeu was not chosen to replace Sandro Rossell so in the eyes of some he does not have the authority that a president should have and if there are elections other names will be mentioned. If there is a change of president I don't think Martino will be there but there may not be elections.
A DIFFERENT MESSI
Hi Guillem. I recently re-watched the 5-0 Clasico from 2010 to see the difference in Barcelona's play from one of their finest performances compared to now. I couldn't help but notice that Messi's work rate has tapered in recent seasons. He no longer presses high or makes any runs into the channels. Is this concern for his fitness on Barcelona's part or an attitude change from Messi?Dave
GUILLEM SAYS: It was a collective effort. Everybody played better when the full-backs went forward, the wingers came inside and ran in behind defenders, and the passes were much sharper. You had a Messi who had more chances to do his thing, so we can't point out one person but it is clear he is changing as a player. 2010 was four years ago, he has had an injury and he is aware he has to choose his runs. Funnily enough, he is doing approximately the same number of sharp, electric runs as he used to do but he touches the ball less and moves less. He feels he has to be more careful with his body but the team does not create enough spaces for him to take advantage of.
CHAMPIONS ELECT?
I would like to ask your opinion on which team will win the Champions League? Would you stick with the current holders or another team from the same country seeing how the German league dominated last year, or would you go with a Spanish side seeing how they managed to ease through their first somewhat tricky ties? Your opinion would be much appreciated, Maxxxy
GUILLEM SAYS: I see Bayern Munich and Real Madrid as the top two teams in Europe and a clash between those two could go anywhere. I still think Bayern are favourites as they have improved their football from last season and are a better team but winning titles depends on a lot of things.