La Liga weekend preview: Atletico Madrid captain Gabi says his side will fight until the end
Atletico Madrid captain Gabi has promised that his side will fight until the end as they aim to win La Liga.
Last Updated: 14/03/14 4:14pm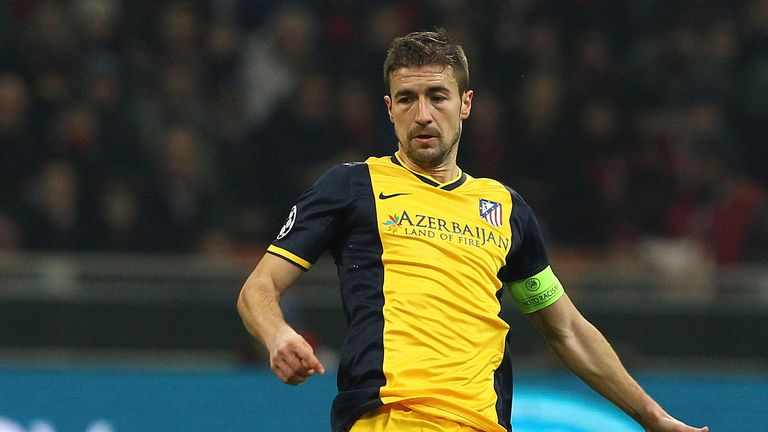 Gabi believes his side have produced an "amazing effort" just to be in the thick of the title race this late in the season as they threaten to break the Real Madrid-Barcelona duopoly.
Atletico trail leaders, and city rivals, Real by three points while Barca are a point further back.
With the Clasico rivals set to meet next weekend, the stage is set for Atletico to strengthen their own position over the next fortnight starting with the visit of Espanyol on Saturday night.
"We are in the last 11 days of the competition. We are very excited, as our fans are, and we will fight to the end," said Gabi.
"I think the team has done an amazing effort, from the players to the coaches, to fight against the most powerful rivals and now it is time to fight to the end.
"Certainly this is a vital time of the competition with few days remaining. We will fight to be on top of the competition table from now to the end."
The question mark hanging over Atletico in the final run-in is whether their squad - smaller than both Madrid and Barca - have the staying power to take their fight until the final weekend.
Gabi admits the season has already taken a lot out of his team-mates - they are also through to the Champions League quarter-finals - but believes the players have the will to keep their title dream alive.
"We have earned the respect spoken about by all players and, above all, the desire to keep people dreaming and nobody can take that away from us," he said.
"People still enjoy being with this team and we are in the position we wanted to be."
Atletico could, however, find themselves six points adrift of the lead by the time they kick off, with Real visiting relegation-threatened Malaga in the game before on Saturday night.
Coach Carlo Ancelotti believes the trip to La Rosaleda with be as critical to their title hopes as next week's visit of Barca.
"All of our remaining games are equally important," he said.
"The team has trained well and is focused this week. I have a lot of faith in the professionalism, seriousness and character of my players. Tomorrow's match is crucial. We play a very good team who aspire to become better."
Barcelona host struggling Osasuna on Sunday, fresh from knocking Manchester city out of the Champions League.
That success has served to silence some of their critics, who emerged after a 1-0 defeat at Valladolid last weekend.
Midfielder Cesc Fabregas now believes Barca can claim a trophy treble.
"The way we played against Real Valladolid wasn't acceptable for anyone in the Barca shirt," Fabregas said.
"I was worried that the criticism of the team would harm us but that's not how I saw it work out (against City). I saw a team wanting to put it right.
"We will give everything (for the rest of the season) and we can win all three competitions."
On Friday night, Getafe host Granada with the winner set to pull away from the relegation zone.
There is also an important match at the bottom on Saturday when Rayo Vallecano travel to Almeria. Both sides are inside the bottom three although Rayo have found form with back-to-back wins.
Real Sociedad can take an important step towards securing European football next season when they host Valencia on Sunday, while Sevilla host a Valladolid side fresh from their upset win over Barca.
Last-placed Real Betis travel to Elche knowing time is running out to save their top-flight status. Betis are eight points from safety after claiming just their second win in 20 league games against Getafe last weekend.
Mid-table Levante and Celta Vigo meet in Valencia while on Monday night Villarreal welcome Athletic Bilbao as both look for a win to boost their bid to qualify for the Champions League.