Diego Costa's inspirational form is great news for Spain, says Guillem Balague
Guillem Balague blogs on Diego Costa's changes, Pochettino's progress and Suarez's future.
Last Updated: 07/10/13 2:21pm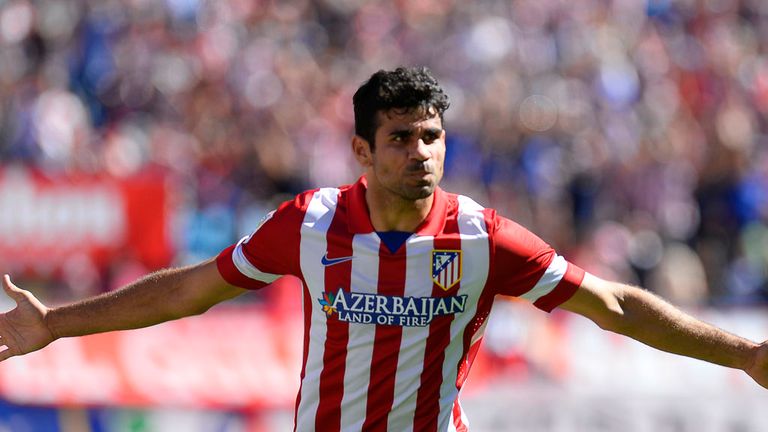 Atletico Madrid boss Diego Simeone has instilled a collective work ethic in his side that has helped to improve each player, with the possible exception of Adrian.
Everything Costa is trying at the moment is coming off and only Arda Turan had more touches in this weekend's victory over Celta Vigo.
The 24-year-old has never been considered as a typical No 9 - he appeared to be more comfortable playing off a No 9 - but now it is increasingly the case that David Villa is playing off Costa.
That shows you just how important he is to the side - everything goes through him at the moment and he's full of inspiration - so it's no wonder that Spain is fighting to get Costa into the national team.
The striker has decided that he wants to be a Spanish international but the Brazilian Federation have yet to deliver official confirmation that Costa has not played a full international for them.
By delaying the process, they thought they could convince Costa - who has played in two friendlies for them - to be part of the Brazilian squad.
But to be honest they have had lots of chances to call him up and they haven't in the past, so it's hardly surprising that Costa wants to take a different road - one that is really good news for Spain!
Guillem answers your questions...
Got a question for Guillem? Then send it toskysportsclub@bskyb.com or use the feedback form below, and then look out for his answer next week.
LUIS LEAVING?
Hello Guillem. Will Real Madrid try to sign Luis Suarez in either of the next 2 transfer windows? If Suarez was to leave Liverpool, who would you recommend as a replacement from La Liga? Andy Davies
GUILLEM SAYS: I don't think Luis Suarez is going to leave in the winter, Andy, but in the summer, who knows? His priority has to be to have a good season and World Cup, and then we'll see. There aren't too many superstars up front in Spain at present because they've been 'taken away', although there are youngsters coming through that could fill that gap. Diego Costa was approached by Liverpool but he decided not to go; otherwise he would have been a perfect replacement.
THE BALE FORMULA
Ola Senor Guillem, I am a Real Madrid Fan. A lot has been made of Gareth Bale's injuries being related to not having not done the pre-season. But is that fact too much hyped about? I have seen many players return from injury, taking a break for a month or two, and getting back into the first team. Varane had missed pre-season and a lot of months added to that, yet he finds his way in. Cristiano had an injury during Mou's campaign and was out for a month and got back in blistering form. Please throw some light? Akhil
GUILLEM SAYS: Hi Akhil, the injuries are related to the way that Bale has been brought back having not had a pre-season. There has been a lot of pressure on the player to start some games, plus he now has to deal with the added pressure of being the most expensive player in history. It's hard to see how that wouldn't affect anyone and Bale hadn't done much physical work before he started for Real Madrid. Bale has a physique that needs to be looked after. In a normal car you can zip along the motorway in first gear and it won't break down (although it won't do the car much good!), but if you tried it in a Formula One car the engine would blow. Bale is very much a Formula One player, so Real Madrid have to be very careful with him.
TITO FUTURE
Hello Guillem, I was wondering whether you think Tito Villanova will return to Barca one day as Martino has only a two-year contract? Martiallaw
GUILLEM SAYS: He will return to Barcelona, health permitting, but not as a coach.
MAURICIO'S MARK
Hi Guillem I would like to hear your views about the job Pochettino is doing with Southampton. He has got them playing great football and they keep the ball so well. Do you see him managing a big club in the future and why can he still not speak English? Thanks, David
GUILLEM SAYS: I just think that he's going to be a top, top coach, David - and, of course he can speak English - how else do you think he communicates with the players? The thing is he doesn't want his words to be twisted or misinterpreted, so he prefers to use a translator.
STRIKING POINT
Dear Guillem. As a Swansea fan I was delighted to see Michu called up to the Spain national team. How highly is he regarded in Spain and does he have a realistic chance of playing at the World Cup next summer? Dai (Swansea fan)
GUILLEM SAYS: At least one of the striker's spots is up for grabs. I think that Diego Costa will probably go to the World Cup, then it will be interesting to see how Negredo and Soldado get on in the Premier League; one of those two players would probably take another spot. Then there is a bunch of players like Villa, Llorente and Michu battling to be the third striker, so he definitely has a chance!