La Liga: Barcelona target Luis Enrique confirms his departure from Celta Vigo
Luis Enrique has left Celta Vigo amid mounting speculation that he will become the new Barcelona coach.
Last Updated: 16/05/14 3:08pm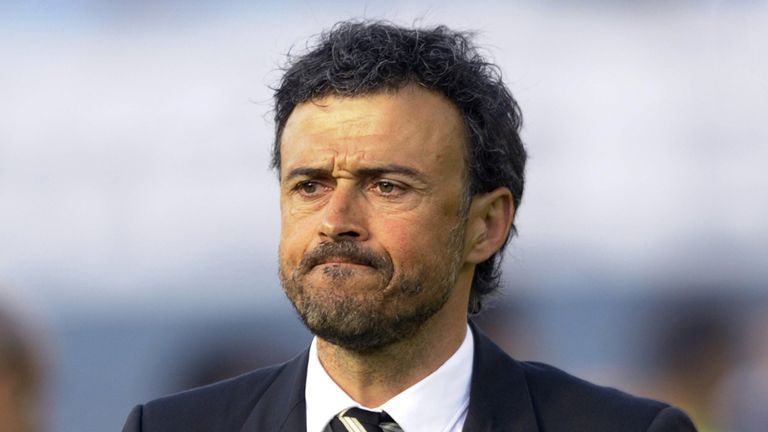 At a press conference on Friday lunchtime Enrique said his farewells to Celta Vigo ahead of their final match of the season against Valencia on Sunday.
"I want to pay a special tribute to the players, the best group of people I've had as a coach," said the 44-year-old.
"I've been very fond of Vigo. They've treated me well here, but there are other things I must consider. Living away from my family has been hard.
"For me this is a sad as I feel very attached to this club and everybody here.
"Celta Vigo have given me all their confidence and support in difficult times."
Enrique has steered Celta Vigo to eighth place going into the final weekend of the season, but has been linked with the Barca job for several weeks.
Current Barca coach Gerardo Martino may well win the title on Saturday but seems a certainty to depart, and it has been reported that Lionel Messi was assured that Enrique would be in charge next season before the Argentinian forward agreed terms on his new contract the Nou Camp.
Enrique finished his playing career with Barca after a controversial free transfer from fierce rivals Real Madrid, and began his coaching career with a spell in charge of Barcelona B before moving on to Roma and Celta Vigo.
Enrique denied any deal was done for next season, claiming he could even sit the campaign out.
"Today I do not know if I will coach next season, although that does seem incredible," he said.
Enrique took over at Celta last summer but was almost immediately linked with Barcelona after the departure of the late Tito Vilanova.
However, nothing came of that with Enrique reluctant to depart before taking charge of a single game for his new club.