Guillem Balague: Atletico Madrid, Barcelona and Real Madrid find new ways to win
The stars are not shining, but Guillem Balague says Spain's big three are finding new ways to win.
Last Updated: 26/11/13 10:04am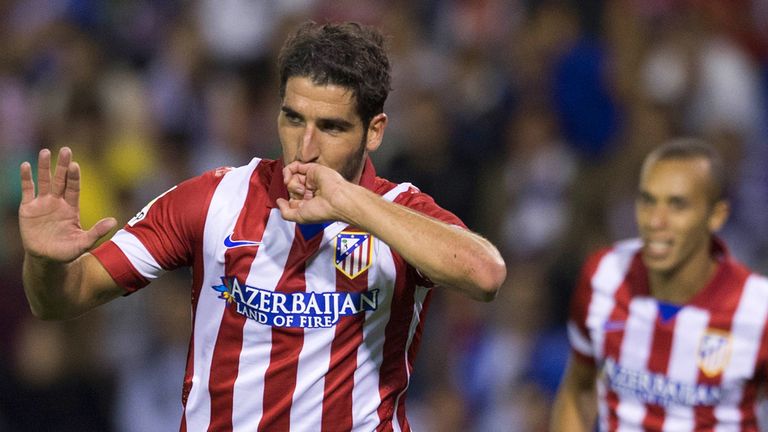 All three are fine-tuning their work as team units, but there are still differences between their approaches and standards.
Atletico are playing at their highest level possible and that is making individuals better. Players who, anywhere else or with a lesser team, would look mediocre.
There is nothing special about Raul Garcia, for instance. He doesn't take part in the build up and is just a midfielder or second forward who gets into the box. He did that very well at Osasuna last season, where he was above average.
However, before that loan spell he didn't do anything special. What didn't help was that he was used as a central midfielder and he has not got the distribution, brain and dynamism for that position.
But the club's manager, Diego Simeone has found another player in his own mould - somebody who gets into the box and has scored six goals this season. Atletico Madrid have got strikers who are very mobile, come out of the box and go wide and that benefits Garcia.
At Barcelona it is still a bit too much of a case of individuals trying to sort out the team's deficiencies. They are playing without charm and, yes, they are winning but clearly Gerardo Martino does not fully understand the Barcelona way of the last few years.
That would not be a problem if he wasn't asking Barcelona to play in a way that does not benefit their players. It is box-to-box football, much too direct, and doesn't help Xavi or Andres Iniesta.
Solutions
The stats show they are still getting points and that is fine but I get the impression that in the big games they will be short of the level they need because Martino is not using the players to their strengths.
The players who are benefitting are Cesc Fabregas, who has the most assists in the league, and Alexis Sanchez. But Neymar hasn't done anything special in the Lionel Messi role and will head out again to the wing.
Real Madrid are on the way up. They are improving and showing there is life without Cristiano Ronaldo, too.
He went off when Madrid were 1-0 up against Almeria last weekend and the team scored four more. There were also nine Spaniards in the line-up - the biggest number in eight years.
Madrid are finding solutions to their problems with injuries and the only worry is that Ronaldo had to be taken off as a precautionary measure.
Fortunately, it appears there isn't much wrong with him but fears about his fitness throw up some interesting questions about the Ballon D'or candidates. If you look at them - Franck Ribery, Lionel Messi and Ronaldo - they are all injured.
Who is to blame? Is it the calendar, is it the clubs not rotating enough or the players who want to play in every game? Whatever the reason, it is a bit worrying.
Guillem answers your questions...
Got a question for Guillem? Then send it in using the feedback form below, and then look out for his answer next week...
BARCELONA'S MAKE-OVER
Do you believe the rumours about Robert Lewandowski joining Barcelona in January? Also, do you really think that Tata Martino is destroying the club's tiki-taka style or is he just adding more versatility and unpredictability, which is what Barcelona needed last year? Gerard
GUILLEM SAYS: Barcelona approached Lewandoski's agent and were told they were too late, a decision had been made about his future and it was not to join them. What is interesting about that is that Martino had allowed them to enquire about a No 9 who is different to the ones Barcelona have had in the last few years. In the way that he gets the team to play, he certainly needs a No 9.
BENZEMA STAYING PUT
Is there any truth to the rumours that Karim Benzema could be on his way out of the the Bernabéu, hopefully to Arsenal? In spite of his recent resurgence, I see a similar pattern developing as with Mesut Ozil, in relation to the fans booing him and Carlo Ancelotti criticising his level of commitment? Could he possibly be used to either fund the acquisition of Luis Suarez or be part of player plus money package? Denis (Gooner)
GUILLEM SAYS: I'm afraid Benzema is definitely not leaving Real Madrid in January. They see him as a very important part of the team and there is no intention to transfer him.
CANALES JURY OUT
What has happened in the recent career of Sergio Canales? At one point he was the next Golden Boy of Spanish football. Do you think he has what it takes to usurp Isco's position at Real if they were to re-sign him? Logscottwood
GUILLEM SAYS: Canales had two bad knee injuries and has to recover confidence and keep improving. The problem is that when players around that age - 19, 20 - start shining the biggest step is to continue to do so and injuries have stopped that happening for him. We will have to wait and see if he can do that and move to the next level.
FABREGAS A STAYER
With speculation around Cesc Fabregas in the summer and in recent weeks, do you think that he'll stay at the Camp Nou long term or seek a transfer? Harry (Arsenal)
GUILLEM SAYS: I am convinced he is staying at Barcelona for a few years. His role in the team is improving. Manchester United were interested in him but I think it was something to do with cheeky work from the Cesc camp.They were trying to gain some more influence for Fabregas at Barcelona after the arrival of Neymar. Cesc had taken a step down in his relevance to the team but he sees now he is still important to the team and as long as he can see that he will stay at the club.
Got a question for Guillem? Then send it in using the feedback form below, and then look out for his answer next week...