Suspended Juventus head coach Antonio Conte has revealed he is desperate to return to the Bianconeri bench
Suspended Juventus head coach Antonio Conte has revealed he is desperate to return to the Bianconeri bench.
Last Updated: 12/11/12 8:39pm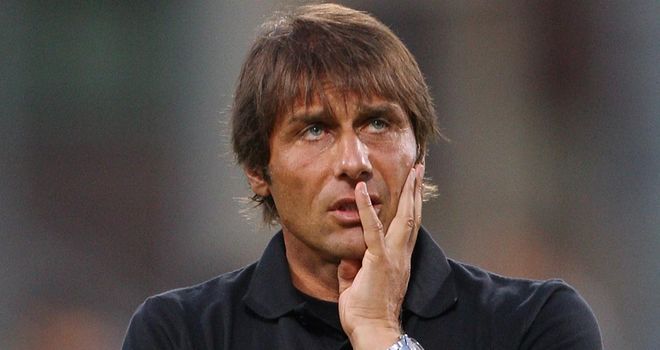 In August Conte was handed a 10-month ban for allegedly failing to report two incidents of match-fixing while in charge of Siena, a decision that saw him barred from the touchline and denied the chance to deal with the press.
The 44-year-old has been restricted to training the reigning Serie A champions during the week, with technical director Massimo Carrera and assistant manager Angelo Alessio taking charge on matchdays, but Conte will return on December 9 after having his ban reduced by six months on appeal.
Conte made a perfect start as Juventus boss, leading the Turin giants to a first Scudetto since 2003 and a long-awaited return to the Champions League, with his team also going through an entire season unbeaten in the league.
That impressive run was ended by Inter Milan last week, with Conte more eager than ever to return to the touchline and consolidate Juve's lead at the top.
In a webchat with fans, quoted on Gazzetta.it, he said: "I miss it very much. My training workload has tripled in the last three months because I used to be able to issue instructions during matches. Now that is impossible.
"But I have been lucky to have good people working with me, as well as a responsible bunch of players.
"I really liked (Leonardo) Bonucci's definition - 'we are not soldiers, we are professionals'.
"I've managed to stay in the players' heads and that's been helpful.
"But I really miss being able to take my place on the bench, not being near the grass, my players, the opposition, the fans, or anybody else."
Following a summer of revelations and investigation, the Italian Football Federation (FIGC) found Conte guilty of not reporting information relating to match-fixing that allegedly occurred during two Siena games in the 2010-11 season.
A first appeal failed, but Conte finally managed to have his lengthy suspension reduced to just four months by the National Court of Arbitration for Sport.
"I have gone through some difficult times," he added. "I've never managed to understand why it happened to me, I've strived to work it out.
"The support of my family and president Andrea Agnelli has been invaluable.
"I only hope that those who have decided I'm guilty have to live through one day as a guilty man when they are innocent.
"At the beginning of my time here Agnelli told me I could have a career like (Sir Alex) Ferguson's. I'm precisely where I want to be and I hope I'm here for a long time."
Speaking about winning the league title, Conte added: "Winning the league as a manager feels better than winning as a player. Only in my wildest dreams did I imagine I would win the Scudetto in my first year in charge of Juventus.
"After we won it we all hugged each other and we could hardly speak. We wept with joy because we knew how much hard work we'd put in. We have never lost the hunger.
"Maybe we have been a little less intense over the last few games, congratulations to Inter for beating us. They will fight us for the Scudetto until the very end.
"But they should respect this Juventus side, who play great football and managed not to lose for 49 games in a row."