Milan have given their backing to boss Massimiliano Allegri, but remain unhappy with their situation
AC Milan have given a vote of confidence to under-fire boss Massimiliano Allegri.
By Nadia Carminati
Last Updated: 13/11/12 1:20pm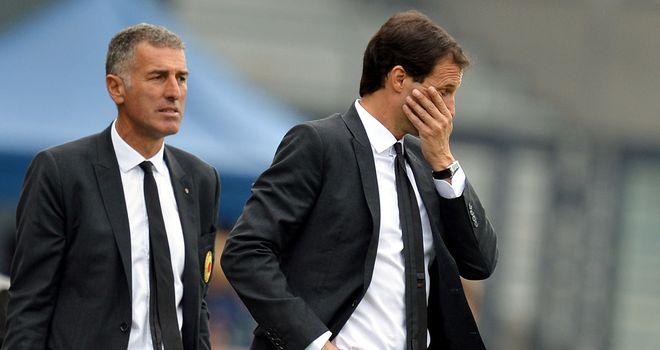 The Rossoneri have endured a disappointing campaign thus far, currently sitting 13th in Serie A having lost half of their 12 league games.
Milan vice-president Adriano Galliani admits they remain unhappy with the situation but are maintaining their faith in Allegri.
"It is obvious that we are not happy," Galliani commented.
"We evaluated everything last night and changing the Coach wouldn't have given us any guarantees.
"Silvio Berlusconi and I had a long talk last night and then we called Allegri at around midnight and told him that we have faith in him.
"We have confirmed Allegri as the coach of Milan. He has done well in the past two years and this is the decision we have made."