Pato plays down attack talk
AC Milan striker Alexandre Pato has rubbished reports that he was attacked by fans after missing a penalty in Sunday's defeat to Fiorentina.
By Nadia Carminati
Last Updated: 13/11/12 7:32pm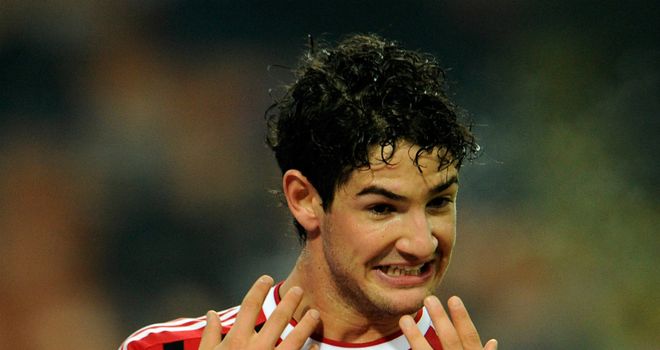 Various Italian newspapers had claimed that a gang of angry Milanisti surrounded the Brazilian's car as he tried to drive away from the San Siro following a 3-1 home loss.
Pato did apologise for firing his penalty kick high over the crossbar in the first half, though, as his miss resulted in him being jeered off the pitch at the break, on his way to being replaced by Giampaolo Pazzini.
But 'The Duck' promised to put in a much-improved performance from the Serie A runners-up if he is selected to face Napoli on Saturday.
The 23-year-old told Milan Channel: "I heard that people were saying that fans attacked my car with me in it, but it's not true, nothing happened.
"I left the San Siro as usual and I don't know why these things are written.
"All I can say is that the criticism is normal, and I accept it, but some of the things that have been written never happened.
"It didn't go as we expected against Fiorentina, unfortunately we gave away three points at home, but now we must think about Napoli.
"I can certainly say that we are improving, but we can't keep throwing away points because they are all so important.
"It was a game that we should have won, I'm sorry for missing the penalty and for the loss.
"Missing from the spot isn't the worst thing you can do but I am a penalty taker and I'm never scared I'll miss.
"But maybe I'll hold myself back if we're awarded a penalty in the future."
Milan have lost six of their opening 12 league matches and head coach Massimiliano Allegri is under more pressure than ever to drag the club towards the European places.
But Pato is urging patience from the Diavolo faithful, adding: "It's impossible not to hear the fans' whistles in the stadium, but I'm on their side.
"I know how hard it is for the fans who are used to big wins and trophies.
"But we are in a rebuilding phase, lots of great champions have left, so now we have to work hard and try to do our best.
"Let's forget that match and think about working towards beating Napoli and bringing three points home, even if it will be difficult."