Inter Milan coach Andrea Stramaccioni insists Wesley Sneijder is not being victimised
Andrea Stramaccioni has hit out at reports that midfielder Wesley Sneijder is being victimised by Inter Milan.
By Nadia Carminati
Last Updated: 03/12/12 1:19pm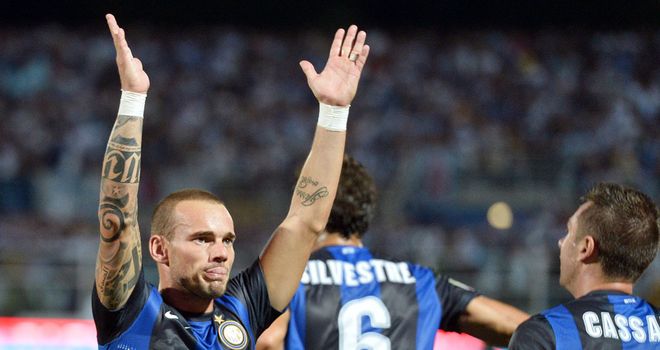 The influential Dutch playmaker has been a peripheral figure recently and was left out of the side that limped to a 1-0 win over Palermo on Sunday.
Media reports in Italy suggest Sneijder would have to accept a pay cut to remain with the Italian giants, although Stramaccioni insists the contract wrangle is not the reason for him being left out.
"My view - as someone who has only experienced this level of football for a short time - is that we should be careful when using terms such as 'victimised'," he told reporters.
"If someone who earns 1,000 euros a month heard us, we'd look a bit silly. It's my job to decide who's in the best shape to play and I do so, I make my decisions and I stand by them, so let's please avoid talking about someone being 'victimised'.
"It's my job to pick the best team available, and at the moment I'm not picking him.
"This has nothing to do with his contract, I have to select the team and Inter come first.
"It's not a case of the president telling me not to pick Sneijder, I pick the team. And I think it's outrageous to suggest Sneijder is being 'victimised'."
Solution
Inter president Massimo Moratti has called for common sense over the situation and says the two parties are working to find a solution.
"There is nothing frosty (in our relationship) from my side," he told Italian press. "Also the coach has said so.
"We are trying to find a solution that could be good for us and for him, but we can't force anything and neither of us want to do this.
"Is there the need for common sense? I think so."