Andrea Stramaccioni still believes in Inter Milan players despite Udinese defeat
Andrea Stramaccioni is prepared to keep faith with Inter Milan's current group of players despite the defeat at Udinese.
Last Updated: 07/01/13 2:27pm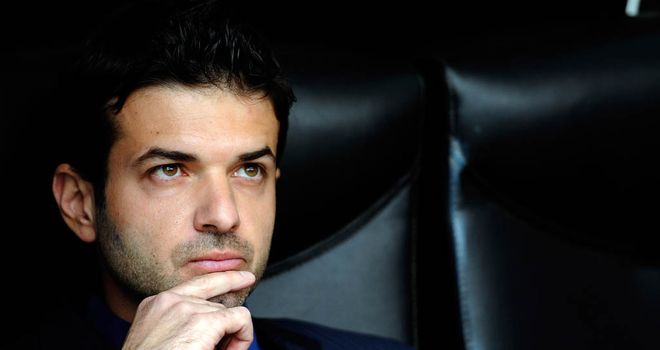 The Nerazzurri missed the chance to close the gap on leaders Juventus, who later lost to Sampdoria, with Antonio Di Natale scoring twice to drag Udinese into ninth place.
Luis Muriel had scored in between Di Natale's strikes, with Juan Jesus' second-half dismissal and Rodrigo Palacio's failed penalty appeal seriously limiting Inter's chances of mounting a late comeback.
Stramaccioni has so far secured the services of veteran striker Tommaso Rocchi from Lazio but is reluctant to invest heavily in new recruits in January, despite a mounting injury and suspension list at the San Siro.
He told his club's official website: "I strongly believe in two things, even more so after this match. I believe in my players and in our project.
"We were missing nine players today, who will soon be back fit. Of course a team can always improve, but one way or another we're unlucky in every game.
"I think we played well in the first half. The 3-0 scoreline is not a fair reflection of the contest. We've come away with a heavy defeat, but up until the sending off we'd played well, we were still in the game and posed a threat.
"We've certainly been unlucky with refereeing decisions. Again today we've seen an incident which changes the game. We would have had a penalty and they would have been a man down.
"Yet we've finished the match with four yellow cards. It was a stonewall penalty on Palacio, (Maurizio) Domizzi clearly puts his hand across his shoulder and impedes him, yet it's our player who gets cautioned.
"Fair enough, if that's what the referee saw. Do I suspect something? No, I believe referees just do their job, I don't think there's anything sinister behind it, but you can't not give a penalty for that."
Stramaccioni has faced repeated criticism for his failure to select Dutch playmaker Wesley Sneijder during a lengthy contract dispute, with the 28-year-old expected to leave Milan in the current transfer window, but this time the Nerazzurri boss claimed the player was too ill to take part.
"He was missing and so were eight other key players," Stramaccioni said. "I've never been one to moan but obviously these absentees do have an impact.
"Either way, Sneijder wasn't available for selection as he hadn't trained due to the flu."