Stephan El Shaarawy happy at AC Milan and loving Mario Balotelli link-up
Stephan El Shaarawy says he is not interested in leaving Milan and has praised Mario Balotelli for settling in quickly.
By Simone Bargellini
Last Updated: 05/04/13 2:27pm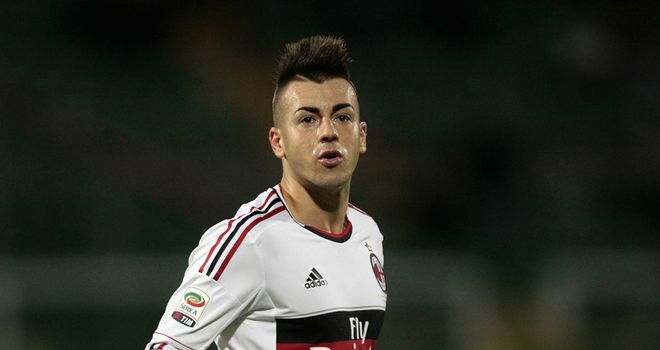 Balotelli has scored seven goals in as many Serie A appearances since returning to Italy in January following an eventful two-and-a-half-year stint with Manchester City.
He made as many headlines in England for his behaviour off the pitch but El Shaarawy says his impact at the San Siro has been entirely positive.
El Shaarawy is also adamant that his own form has not been disrupted by Balotelli's arrival, even though he has not been so prolific since the winter break.
"There's no truth in the criticism that Balotelli's arrival has hurt my form. We understand each other perfectly and have done good things in each game we have played together," El Shaarawy told La Gazzetta dello Sport.
"I don't think that my style of play has changed now Mario is here. I still get chances to score, but I have been a bit unlucky. Balotelli is a team-mate who always tries to help me and get involved a lot.
"Mario arrived at Milan at just the right time. He got here when I started scoring fewer goals. He has great technical qualities and has linked up very well with the rest of the team. He has surprised me in a positive way."
El Shaarawy has no intention of leaving Milan and says even the opportunity to play in a different league would not sway his mind.
He said: "I am happy to play at AC Milan and any suitor, even from abroad, doesn't interest me."