AC Milan condemn TV presenter Paolo Bonolis after controversial comments
AC Milan have condemned TV presenter Paolo Bonolis for suggesting they have received favourable treatment from referees.
Last Updated: 08/04/13 4:34pm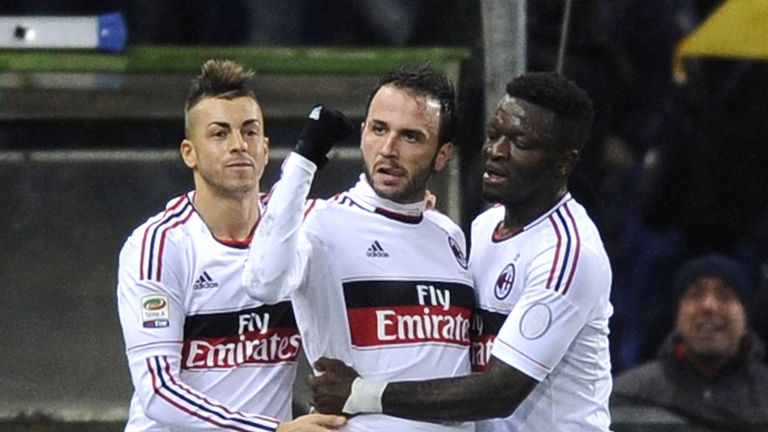 Bonolis, 51, used Inter's in-house television channel to express his suspicions Milan are being helped to qualification for the Champions League while the Nerazzurri are "completely denied any penalties" as part of a predetermined "script".
His comments came after Inter were beaten 4-3 at home by Atalanta on Sunday, with German Denis' second-half penalty starting a comeback and inspiring head coach Andrea Stramaccioni to accuse referee Andrea Gervasoni of "seeing something that wasn't there" in the form of a Walter Samuel handball in the box.
Bonolis told inter.it: "The pretext is now clear, there must be a script with an end already written for Milan, who have made investments and want to be brought into the Champions League.
"It's a comedy. It's obvious.
"There have been certain decisions that were surely made around a table.
While Inter are completely denied any penalties they give them to (Milan).
"It is important to defuse anything that could jeopardise their project - the gigantic comedy - that has the predetermined outcome I mentioned.
"The other teams are just extras in the scene, the script has already been written. We know who the murderer is, who the winner will be, and who the loser will be.
"If I were (Inter) president (Massimo) Moratti I'd just field the youth team.
You can no longer believe in the good faith of the officials, it is all a comedy.
"It is so blatant that now you just close your eyes as we are denied obvious penalties and non-existent ones are given against us. It just makes you sad."
Milan, who lead Inter by two places and eight points in the current standings following yesterday's 2-2 draw at Fiorentina, responded with a strongly-worded statement on their official website.
It read: "The statements of Paolo Bonolis, broadcast on Inter Channel and published on Inter's official site, apart from being without foundation, appear to be exceptionally serious."