Massimiliano Allegri happy to settle for Milan point after draw
AC Milan head coach Massimiliano Allegri was happy to settle for a point from the 1-1 draw with Napoli.
Last Updated: 15/04/13 11:25am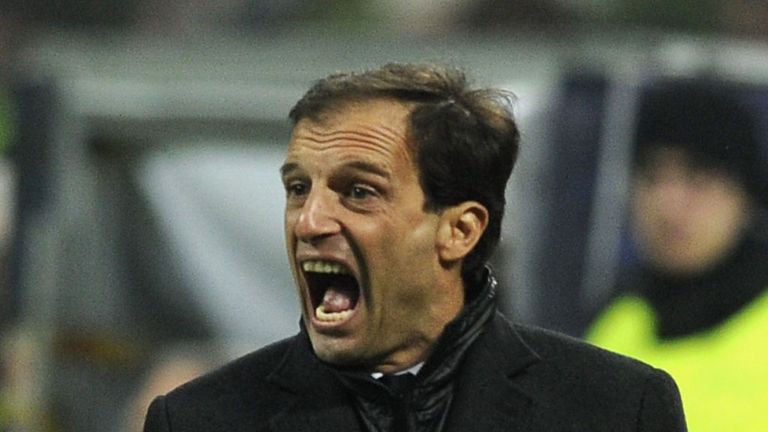 Mathieu Flamini's 29th-minute goal briefly brought Milan within a point of the Azzurri but Goran Pandev struck four minutes later to keep Napoli out in front and within eight points of leaders Juventus.
Flamini then weakened the hosts' chances of holding out for the draw at San Siro by seeing red for his two-footed challenge on Juan Camilo Zuniga.
But Milan survived to keep the southerners within four points and Allegri is confident the Rossoneri can push on over the six-game run-in.
He told the club's official website: "It's a good point. As far as the league goes, I think it's a great point.
"We've come through a few tough games and now we have to face Juventus in Turin.
"We still need to put more points on the board to hang on to third place and get as close as we can to second. That won't be easy because Napoli are in great form.
"So I think that if Milan manage to get at least third place, that would be an important achievement that seemed almost impossible not long ago.
"The reality is that the players deserve a round of applause, but if you want to talk about flying to the moon then you can chat on until tomorrow and I'll listen.
"Obviously it would have been better to win, but all in all I think it's a good result against a great team."
Flamini stopped short of apologising for his out-of-control lunge on Zuniga in the 72nd minute.
"I went in hard with the tackle and I got the player as well as the ball," he said. "These are things that can happen on the pitch.
"I was very eager to show that I'm in good shape and I want to do well for this team. Now we have to work hard for the next week and make sure we're ready to face Juventus."
Disappointed
Napoli boss Walter Mazzarri was disappointed not to capitalise when Milan lost their French midfielder but, nevertheless, the Tuscan tactician feels his team are improving year on year.
"This season we have taken 15 points more than last season, Juventus only six more," he told the club's official website.
"We have been doing really great. In the last four years we have always finished in the top spots and I think that this is a clear sign of growth.
"Whoever has been in football for a while knows that you have to be careful, but considering how we played after the equaliser I hoped we would score another goal.
"But we have been doing great things and my players have given me a lot of satisfaction."