Inter president Massimo Moratti has backed coach Andrea Stramaccioni
Inter Milan president Massimo Moratti has confirmed Andrea Stramaccioni will continue to be the head coach.
Last Updated: 22/04/13 3:02pm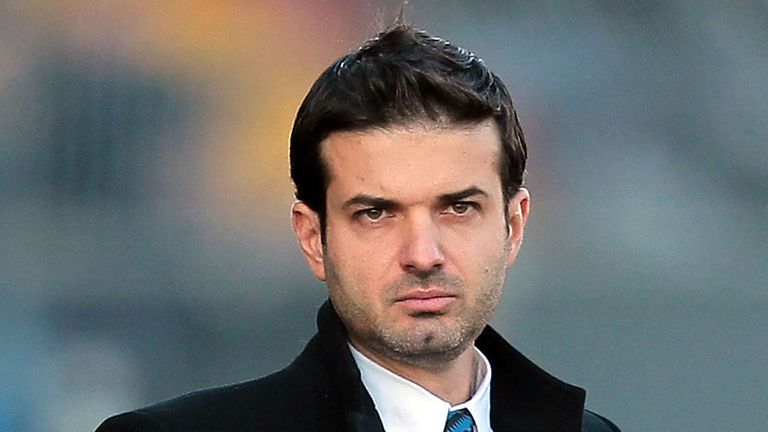 The Nerazzurri are back on track towards securing a Europa League berth after returning to fifth place with yesterday's 1-0 victory over Parma, a result that followed four defeats from five games and a slide towards mid-table obscurity.
City rivals AC Milan - who occupy the final Champions League spot - are six points away with five games remaining while Fiorentina are one point behind the Rossoneri in fourth.
Moratti has consistently backed 37-year-old Stramaccioni, who was a surprise replacement for Claudio Ranieri in March 2012, praising his resolve to keep Inter competitive despite a crippling injury crisis at San Siro.
And when asked by reporters outside the club's central Milan offices if he would move forward with the young tactician, he told inter.it: "Yes.
"I repeat, considering the conditions he finds himself working under at the moment, managing to keep doing well is a beautiful thing.
"And the pride and the professionalism of the players could still bring even better results.
"You ask me every Sunday (if Stramaccioni will stay) and I always say yes."
Following Sunday's win, decided by a late goal from veteran striker Tommaso Rocchi, Stramaccioni reaffirmed his commitment to the current Inter project.
"It's a win that means a lot, most of all for my players," he said. "I'm proud to be the Inter coach and I'll give my all until the very end.
"The president came into the dressing room before the game and fired us up, which was great.
"A full-strength Inter is the only team to have beaten the top four teams. I was the coach then and the players were the same ones we have now."