AC Milan captain Massimo Ambrosini gives backing to coach Massimiliano Allegri
AC Milan captain Massimo Ambrosini has given his backing to coach Massimiliano Allegri.
Last Updated: 11/05/13 2:09pm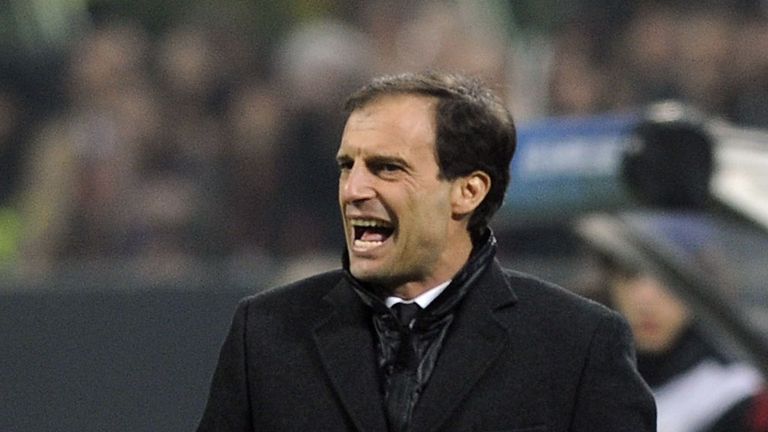 Milan's president Silvio Berlusconi is understood to be planning a change at the helm next season with former midfielder Clarence Seedorf leading the list of candidates to come in.
At the same time, Allegri is being linked with a move to his side's opponents on Sunday, Roma, but Ambrosini says it would be crazy to allow him to leave.
"It would take a lot of courage to get rid of Allegri," he told Sky television.
"His strength was to keep calm when there were problems. He did well to transmit this tranquillity to the team.
"In three years, we have achieved a great deal and I personally think Milan should extend his contract."
The future of Roma coach Aurelio Andreazzoli is equally unclear and he was critical of the treatment he has received in recent weeks.
"On Monday, I was a superstar, and then on Tuesday night, I was an idiot," he is quoted as saying in the Gazzetta dello Sport.
"At least I am old enough to know how things work. It's always nice to receive compliments, there's no point denying it, but the criticism gets on your nerves."
The Roma fans turned out in force following Tuesday night's 1-0 defeat to Chievo, making their message clear that only victory in the Coppa Italia final against Lazio will appease them.
Yet they still have the chance to qualify for Europe via the league, just as long as they win at the San Siro.
They are currently two points behind Udinese and level on points with their city rivals Lazio with all three clubs pushing for a Europa League berth next season.