FIFA president Sepp Blatter sickened at latest racism reports in Milan
FIFA president Sepp Blatter has vowed to step up the fight to conquer racism after disturbing scenes in Italy on Sunday.
Last Updated: 13/05/13 5:06pm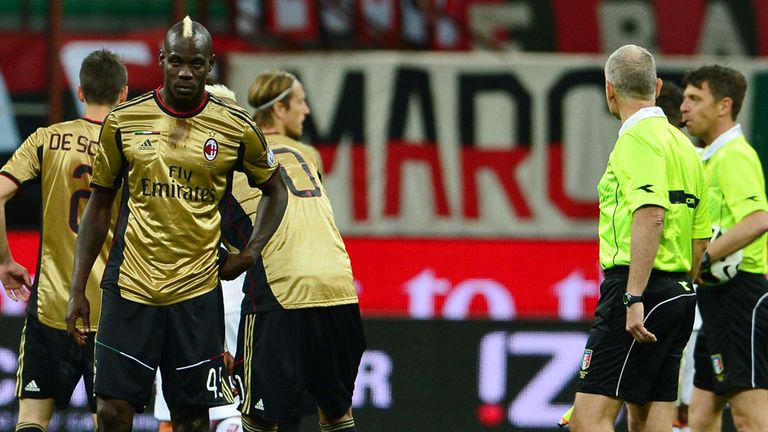 The Serie A match between AC Milan and Roma - who were fined 50,000 euros on Monday, was suspended for two minutes after the half-time interval with several black Milan players, including striker Mario Balotelli, subjected to abuse from the visiting fans.
Four months ago Milan midfielder Kevin-Prince Boateng led a player walk-off after suffering racist chants during a friendly match at Pro Patria.
Blatter, in Zurich for the start of a conference with the newly created FIFA Task Force Against Racism and Discrimination, tweeted: "Appalled to read about racist abuse in Serie A last night. Tackling this issue is complex, but we're committed to action, not just words."
Meanwhile, AC Milan coach Allegri supported the decision by referee Gianluca Rocchi to suspend the match at the San Siro which allowed for a stadium announcement to be made ordering the offenders to desist.
Allegri told the club's website: "In my opinion, there's only one solution to racism in stadiums and that's to suspend the match. To get rid of this stuff in our stadiums, you have to make big decisions.
"It could penalise some people but in the long run it would help us to grow as a nation and become more civilised."
Rocchi was employing new rules introduced in the wake of Boateng's decision to stage the protest in January.
Sunday night's game also saw Milan midfielder Sulley Muntari dismissed shortly before the interval for physically protesting Rocchi's decision to book him for dissent, while Roma captain Francesco Totti saw red for elbowing Philippe Mexes in the final phases.
Allegri added: "Muntari made a mistake and he's mortified but he shouldn't be crucified."