Three prizes are on offer when Lazio meet Roma in the Coppa Italia final
Three prizes are on offer when Lazio meet Roma in the much-awaited Coppa Italia final.
Last Updated: 26/05/13 6:06pm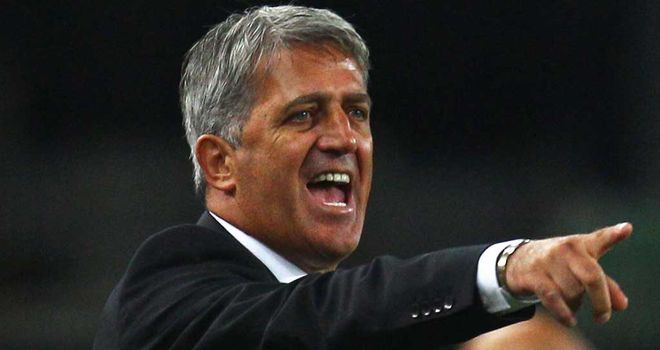 Only one team will take all three, however, with victory promising a much greater reward than triumph in the Rome derby during the Serie A season.
The Italian capital's Stadio Olimpico - home to both city rivals - hosts the first-ever Rome derby final in a match brought forward by three hours to avoid a repeat of the violent scenes that have marred the fixture in recent years.
Lazio coach Vladimir Petkovic, who booked the Biancocelesti seventh place in his first season in charge, told reporters: "I'm incredibly proud to lead this team and the lads have given everything over the last few months and deserve some success.
"We know how strong we are and we have everything we need to win.
"There are three targets: to get into Europe, to win a derby and to win a cup.
"But it's important we don't focus on all that and just think about our performance. If we play with positivity then we can hit our targets."
On their return from a four-day group retreat at Norcia, Petkovic has no real injury doubts with only Uruguayan winger Alvaro Gonzalez nursing a muscle complaint.
"There's always pressure, but you have to use it to spur you on," Petkovic added.
"I'm very happy with how tight the squad have been during our training camp and I'm sure that team spirit will help us win the match tomorrow.
"There have to be some nerves - not having them would mean you're not ready."
Rival fan groups have made a pact to approach the Olimpico from opposite sides of the city.
Roma supporters will use the Ponte della Musica to the south, with Lazio fans approaching from the northern Ponte Milvio.
Both clubs have been warned that future meetings may be held behind closed doors if there is any more trouble. The build-up to April's league meeting saw dozens injured amid running battles with police.
Roma midfielder Daniele De Rossi has played his part, too, imploring fans of both sides to leave their weapons at home and focus on the football.
"I am really confident going into the derby," he said. "It will be a great party and there are so many people who will want to come to the stadium for a celebration.
"So please, leave your weapons and knives at home.
"We have to be the better side out there on the pitch. We feel that sense of responsibility but will not fold under the pressure.
"It doesn't matter what has come before."
Injured goalkeeper Maarten Stekelenburg misses out for Roma but Greek winger Vasilis Torosidis has recovered in time to enter coach Aurelio Andreazzoli's thoughts.
Beaten finalists in 2010, Roma are searching for 10th Coppa title while Lazio are hungry for a sixth having beaten Sampdoria in 2009.