Rafa Benitez feels his Napoli side are still improving
Napoli boss Rafael Benitez felt his team had reached "70 per cent" after their second win in two league games at Chievo.
Last Updated: 01/09/13 12:15pm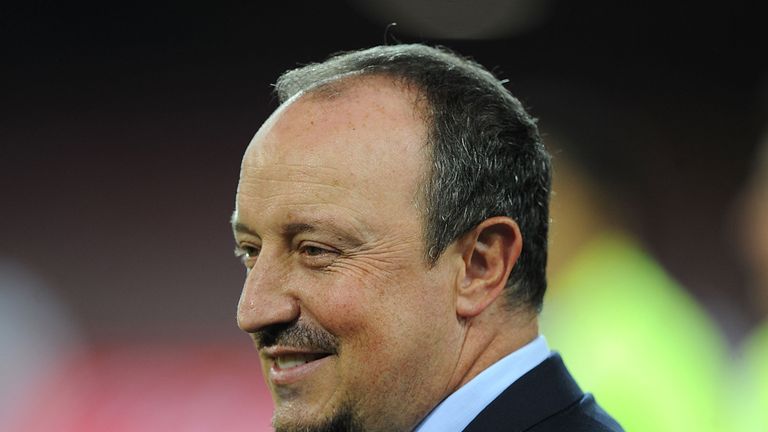 Benitez's side twice took the lead in the first half through Marek Hamsik and Jose Callejon, but were pegged back by Chievo striker Alberto Paloschi on both occasions.
However, they did not look back after Hamsik helped the Partenopei retake the lead once more and Gonzalo Higuain made sure there was no way back after bagging his first league goal following his big-money summer move from Real Madrid.
"We still have to improve," Benitez said on www.sscnapoli.it. "I think the team is now at its 70 percent, but we will have time to grow.
"There is a new team, a new way of playing, and we are all doing our best to get to the top. Now there is the (international) break, then we will resume from where we left. I am satisfied and very optimistic after these first two matches."
Benitez continued: "I saw quality and personality. There were many positive things.
"Winning on such a difficult field and scoring four goals is a remarkable result. We started very well and for 30 minutes we ruled the game.
"We deserved to score, then we also made some mistakes. However, after our opponents' equaliser the team reacted in the right way. We came back with more strength and a winning mentality."
It was the second straight Serie A game in which Hamsik bagged a brace following last weekend's 3-0 win over Bologna, and left Benitez singing the Slovakia midfielder's praises.
"Marek is unique," the Spaniard said. "He is always in the right place at the right time. In this moment he is this team's strength.
"Also Higuain moved well and opened some spaces. For me the whole team is important. We will work intensely on some mistakes, but I really like my players' mentality and game."