Serie A: Barbara Berlusconi denies that she requested Adriano Galliani be sacked
AC Milan director Barbara Berlusconi has dismissed reports that she requested the sacking of Adriano Galliani.
Last Updated: 04/11/13 12:16pm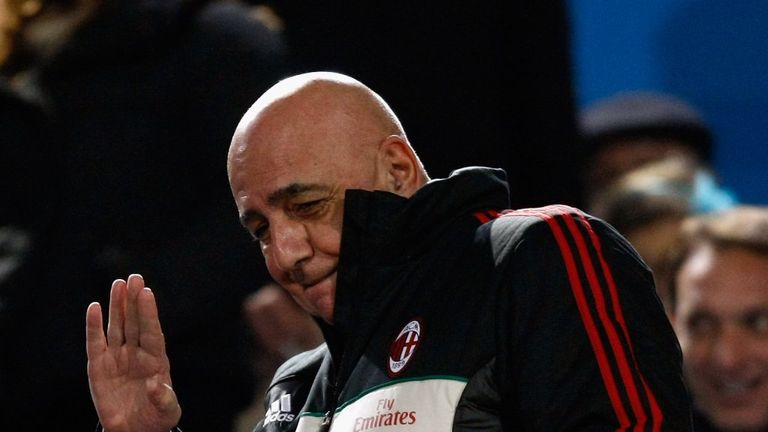 The Italian media reported that Berlusconi, a board member of AC Milan and the daughter of club owner Silvio Berlusconi, was considering letting Galliani go after the team's dismal campaign so far.
Saturday's 2-0 defeat to Fiorentina was Milan's fifth loss of the season and left the Rossoneri 11th in the standings with 12 points from 10 games.
"I have never asked for club administrator Adriano Galliani to be dismissed," Berlusconi said to Gazzetta dello Sport.
"In the numerous phone conversations I've had with my father after the defeat to Fiorentina, I simply asked for a change of business philosophy at Milan."
Since lifting the Scudetto in 2011, Milan have gone through a generational change, selling their top stars, including Thiago Silva and Zlatan Ibrahimovic to Paris St Germain, while letting many veterans like Andrea Pirlo and Clarence Seedorf go.
Milan fans were left disenchanted with the club's signings in the past two seasons and they were left stunned when the Rossoneri sold Kevin Prince Boateng to Schalke this summer, considering the club bought few noteworthy reinforcements.
Galliani then surprised many by luring back Kaka to the San Siro on the final day of the transfer market four years after selling the Brazilian midfielder to Real Madrid.
Milan have not endured such a poor start to the campaign since the 1981-82 season when the team was relegated to the second tier.
"This is the most difficult time in my three and a half years at Milan," AC Milan coach Massimiliano Allegri admitted.
"We have to find a solution.
"I don't think it's a question of the transfer market. In football, it's results that count.
"We simply have to play better and prepare in the best possible way for our game at Barcelona.
"My future? At this time I have to find a solution to the problems and somehow I will do it.
"The club will have to take its decisions.
"The most important thing is to project calmness to my players."
Milan travel to the Nou Camp to face Barcelona on Wednesday looking to keep up their unbeaten run in the Champions League before taking on Serie A's bottom side Chievo in Verona on Sunday.