Serie A: Adriano Galliani agrees to stay at AC Milan
Adriano Galliani is determined to push AC Milan in the right direction after agreeing to stay on at the San Siro.
Last Updated: 02/12/13 3:22pm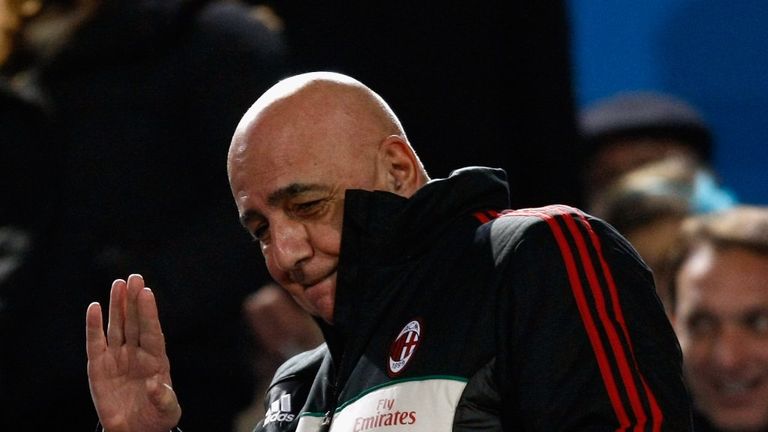 The long-serving vice-president and general manager said at the end of November he was planning to stand down, as owner Silvio Berlusconi looked set to hand over day-to-day control to his daughter, Barbara Berlusconi.
Twenty-nine-year-old Barbara Berlusconi sits on the club board and an arrangement has been brokered whereby she and Galliani will split the role of general manager, with Galliani focusing on the football side.
A meeting with Silvio Berlusconi on Friday night prompted Galliani to extend his near three-decade association with Milan, and despite the team's struggles this season he sees the potential for a bright future.
Galliani said: "I said the other night to the president, when you win you think about going on and always winning and it's like this even when you lose and things don't go well. Then there is the moment that changes everything.
"After 28 years at Milan I continue to say that sport is a cycle. For example, we've got six points in four away matches after having got very few. Now we need to find continuity, we're behind but if we can get on a winning run we will begin to climb the table."
Milan stand in mid-table but are already 20 points behind leaders Juventus after 14 rounds of games, and 10 adrift of city rivals Inter.
Galliani believes bringing Kaka back to the San Siro in August, after a difficult spell at Real Madrid, could turn out to be a masterstroke.
Kaka was on target in Milan's 3-1 win over Catania on Sunday.
"You know I cried in 2009 when I went to sell him, then I thank the Lord that I had the idea on the 31st of August to go to Madrid without any pre-arranged appointment and from there it all happened and Kaka came back," Galliani said.
Head coach Massimiliano Allegri welcomed the new board set-up, featuring Galliani's continued involvement. Galliani has been with Milan through the club's glory years, and wants to deliver more trophies.
"I didn't have any doubts, we'll try and meet the expectations of the club with results," Allegri said.
Riccardo Montolivo, also a scorer in Milan's weekend win, told the club's website that owner and president Berlusconi's leverage of the new behind-the-scenes arrangement has been received positively in the dressing room.
"The president's announcement clearly came at the right time," Montolivo said on Sunday. "It's not been an easy week for us but there is serenity again. We need to do our duty on the pitch and continue along the lines of today."