Serie A: Roma head coach Rudi Garcia thanks his players after 4-0 win over Catania
Roma head coach Rudi Garcia thanked his players for raising their game to dismiss Catania 4-0 on Sunday.
Last Updated: 23/12/13 2:06pm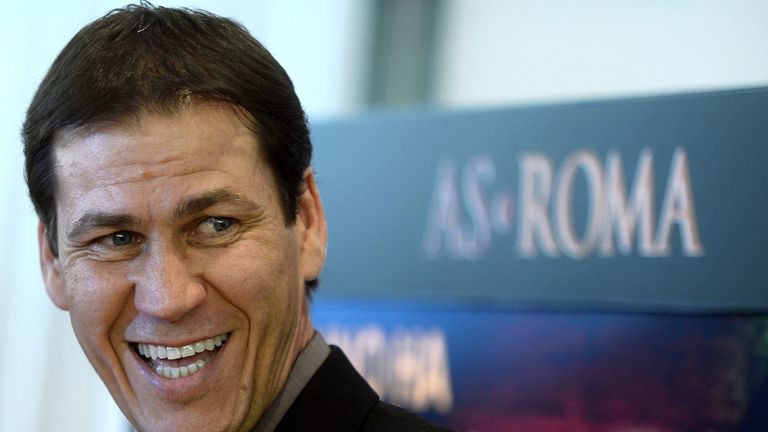 The Giallorossi, whose early grip on the Serie A table has loosened over recent weeks, were sluggish before half-time at the Stadio Olimpico but a "stellar" second-half performance saw Mattia Destro, Mehdi Benatia and Gervinho break the Sicilians' tame resistance.
Even though Benatia had scored the opening goal in the 18th minute, former Lille boss Garcia criticised the slow start.
He told asroma.it: "The first half was ugly, but the second one was stellar. I always want to see the team playing like that.
"There was more balance in the second half, but a draw would have been a horrible result. We needed a victory."
Reigning champions Juve have now moved five points clear at the top by winning nine games in a row while Roma have dropped 12 points across a seven-game run that has featured five frustrating draws.
The capital club do, however, remain unbeaten and visit Turin in January with a view to slashing their hosts' lead.
Garcia added: "A summary for 2013? That's simple: we have 41 points after 17 games, which is extraordinary.
"Normally with these kinds of stats we'd be in first place, but Juve are winning all their games this year. We'll think about our clash in Turin after Christmas.
"(Juventus) are built to win the league and the Champions League. They're two teams in one. We'll continue on the road we're on."
While it has been a disappointing end to the calendar year for Roma, they must spare a thought for Catania, who are bottom of the table with 10 points and coming to terms with the very real possibility of relegation.
The Elefanti have won only twice this season and Sunday's league defeat was an 11th of the season, with two games remaining before the halfway stage.
Coach Luigi De Canio told the Corriere dello Sport: "We were doing well out on the pitch for the entire first half and until Roma scored their second goal.
"That took our legs out from under us. We did show good spirit in the second half, but we soon ran out of energy. From that point on, we fell apart."