Serie A: Lazio have sacked coach Vladimir Petkovic and replaced him with Edoardo Reja
Vladimir Petkovic has been sacked as coach of Serie A side Lazio.
Last Updated: 04/01/14 4:15pm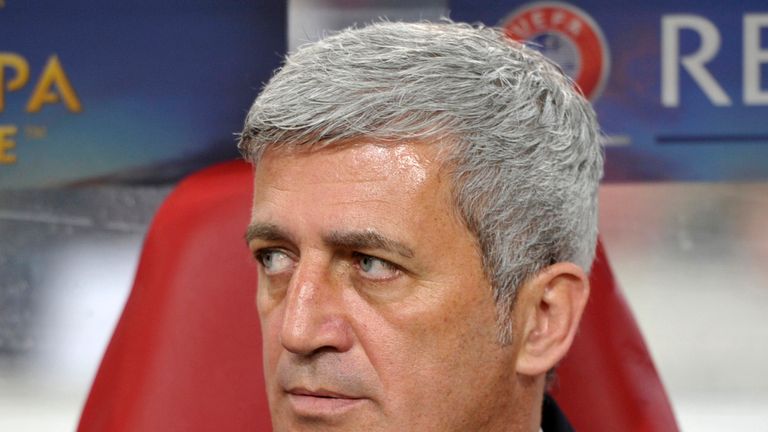 The 50-year-old, who took over at the start of last season, had already signed a deal to replace Ottmar Hitzfeld as Switzerland's national coach this summer.
The move, which was announced shortly before Christmas, reportedly angered club president Claudio Lotito who has now replaced him with former Lazio coach Edoardo Reja.
Reja, 68, who resigned from his position in May 2012, had already been put in charge of training sessions at the club this week despite Petkovic claiming he still considered himself to be the first-team coach.
In a statement the club said: "Lazio communicates that it has terminated the employment contract with Vladimir Petkovic for just cause following the conclusion of a disciplinary procedure and (after hearing the) justification of the interested parties."
However, Petkovic's lawyer Paco D'Onofrio said Lazio had failed to state which rule had been broken.
In an interview with Sky Sports Italia he said: "We consider the statement to be unfair and illegitimate because no rule has been broken at any point.
"The Lazio statement itself does not mention which rule he has violated. No rule forbids a coach from reaching an agreement with any other party when his contract is due to expire. Indeed, Petkovic signed for a national team and not a club rival of Lazio."
Bosnia-born Petkovic, a naturalised Swiss citizen, led Lazio to seventh place in Serie A last season plus a Coppa Italia final win over neighbours AS Roma, but this season has seen them slip to 10th place after picking up just 20 points from 17 games.
Lazio are the fifth Serie A side to change coaches this season following Catania, Sampdoria, Genoa and Chievo.