Serie A: Fiorentina's Mario Gomez growing frustrated on the sidelines
Fiorentina's Mario Gomez is growing frustrated at being unable to help his team as his recovery from injury drags on.
Last Updated: 13/01/14 12:22pm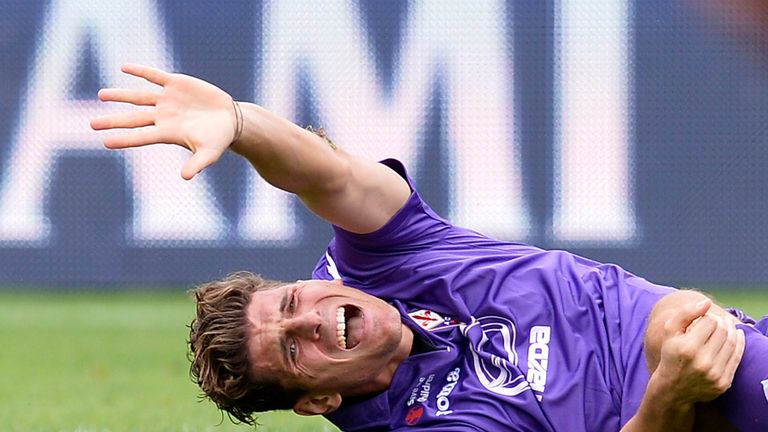 The Germany striker has been out of action for almost four months, having originally expected to miss only two after damaging tendons in his knee in September, shortly after joining the Serie A club from Bayern Munich.
"As you can imagine, it's not an easy situation for me," he wrote on his Facebook page.
"With Pepito (Giuseppe Rosssi) now injured, it's nothing short of tragic. I've got my fingers crossed for him and wish him a speedy recovery.
"He is one of the best strikers in the world and we need him, just like I need to be playing football again now at long last.
"I don't know if I've ever had such a difficult phase in my career. Two months have become almost four, and it's starting to get on my nerves.
"We are trying everything humanly possible to resolve the problem with the injured tendon, but the healing process for such an injury is unfortunately very slow."
Gomez recognises that he is not the only one frustrated by his slow recovery.
"The coach, physios and doctors have been putting a great deal of effort and passion into supporting me," he added.
"It is not always easy to work with an impatient player like me, who is just desperate to get back out onto the field, to give something back for what has been given to me by the fans every day here in Florence.
"I can say that I really love the fans and this city. I will continue to do all I can to get back on to the pitch as quickly as possible. That is why I'm very optimistic that I'll be back to my best soon and be able to make an important contribution with my goals to us achieving our objectives."