Serie A: Antonio Conte feels Juventus can get even better despite win over Inter Milan
Juventus coach Antonio Conte feels his team still have room to improve despite their 3-1 triumph over Inter Milan.
Last Updated: 03/02/14 10:48am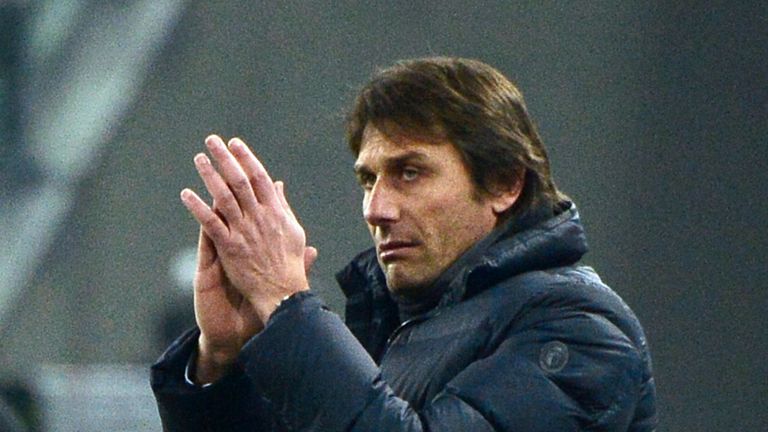 Juve took control through goals from Stephan Lichtsteiner, Giorgio Chiellini and Arturo Vidal inside 60 minutes and, although Inter pulled one back through Rolando, it was not enough to deny the hosts their 19th league win of the season.
That victory left the reigning champions nine points clear of second-placed Roma, whose match against Parma was abandoned because of heavy rain, but Conte is still looking for more from his side.
"It's great that we won," Conte said to Gazzetta dell Sport. "We prepared for this game down to the last detail.
"We knew that Inter would use Mateo Kovacic and Ricky Alvarez to mark Andrea Pirlo and we prepared for that too.
"We played well and it's just a shame we conceded that goal which created a bit of anxiety.
"People ask me why I continue to wave my arms on the touchline when it's late in the game and it is because I know it takes one moment of luck to score and for a game to be reopen.
"We are the top scorers in Serie A, but could have scored more goals against Inter.
"(Inter goalkeeper) Samir Handanovic did very well on several occasions and we were not as accurate as we could have been, but I was more interested in the performance and I'm happy with that."
Regarding his side's prolific scoring in Serie A this season - Juve's tally of 54 goals is nine more than second-best Roma - Conte added: "As a player and as a coach I have been a believer in attacking football.
"As a player I won five Scudetti, the Champions League and everything there was to win, so I can only wish they (my players) follow me and do even better.
"I always want my team to take the initiative.
"It's better to lose a game by attacking than to draw while waiting while the other team takes command."
Juve strengthened their attack in the winter transfer market with the arrival of Italian forward Dani Osvaldo on loan from Southampton.
Osvaldo, who joined on deadline day, could move to Juve permanently with the Turin club having an option to acquire him in June for 19million euros.
"Osvaldo was an opportunity that we took," Conte said. "Osvaldo desperately wanted Juventus and reduced his wages by a lot to come to us.
"We are happy to have a player who improves our quality in attack, as we have Serie A and the Europa League to challenge for."
Osvaldo, a former Roma star, could make his debut with Juventus in Sunday's game at Hellas Verona.