Serie A: Walter Mazzarri delighted to end Inter Milan's endless run v Sassuolo
Inter Milan coach Walter Mazzarri breathed a big sigh of relief as his team ended a five-match winless run in Serie A.
Last Updated: 10/02/14 9:53am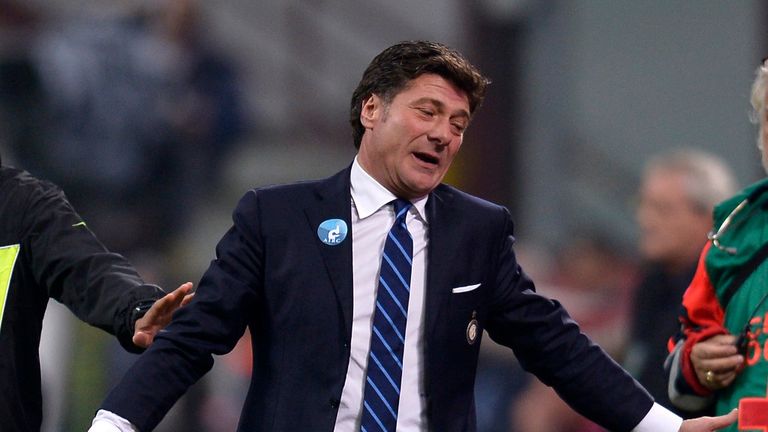 Walter Samuel's goal handed Inter their first win in 2014 and eased the pressure on Mazzarri.
"We finally broke the spell," Mazzarri said to Inter's official website. "We handed a good performance but it was tough as Sassuolo are a good side.
"Every rival is difficult and it took us a while to break the deadlock.
"The important thing was that we were able to return to victory."
Mazzarri was full of praise for the 35-year-old Samuel.
The Argentinian defender has had limited playing time this season but handed a match-winning performance in his fourth league appearance for Inter on Sunday.
"Samuel should be an example to everyone in the team," Mazzarri said. "He is an outstanding player, who has been many trophies in his career.
"He showed a lot of determination and hunger.
"Samuel had done well in the Coppa Italia against Udinese and looked good in training, whereas some of the other defenders had lost some of their sharpness.
"I thought the team and the back line needed a leader who could push the others in these difficult times."
Mazzarri was satisfied with Brazilian midfielder Hernanes, who made his Inter debut on Sunday following his move from Lazio last week.
"Hernanes is an important player," he said. "He did well and it was clear that this game meant a lot to him."
Inter are fifth in the standings, level on 36 points with Hellas Verona, who are sixth.
The Nerazzurri travel to Florence to face Fiorentina on Saturday.