Juve danger for RDM
Chelsea need a result in Turin if they are to keep their Champions League fate in their own hands. Adam Bate wonders whether Roberto Di Matteo has the answers when the European champions take on Juventus.
By Adam Bate - Follow me @GhostGoal
Last Updated: 20/11/12 8:54am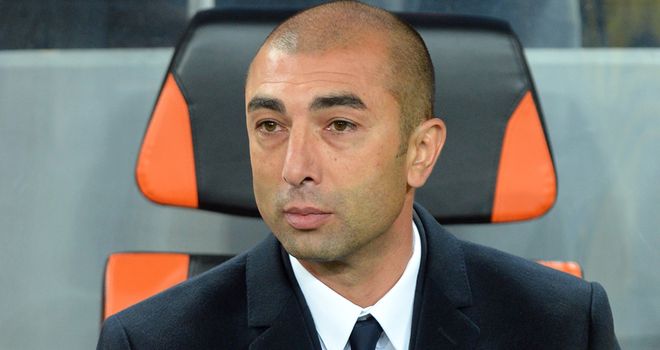 The European champions are in a precarious position as they try to become the first team in the UEFA Champions League era to successfully defend the trophy. Chelsea travel to Juventus on Tuesday evening in the knowledge that a defeat could leave them all but eliminated from the competition at the group stage.
If the Blues lose in Turin then they could find themselves adrift in third place in Group E. Shakhtar Donetsk would be out of reach, assuming they were to win at Nordsjaelland on Tuesday. While Juventus would need only a point in their final game in Ukraine to leave Chelsea helpless no matter what the score in their final home game against the Danish strugglers at Stamford Bridge.
Those searching for encouragement from the fact that the Bianconeri's 49-game unbeaten run came to an end against Inter earlier this month could be in for disappointment. The response from Juventus has been emphatic. Nordsjaelland were beaten 4-0 before Pescara were on the receiving end of a 6-1 thrashing. Lazio fared better in a goalless draw at the weekend but even that scoreline bettered the disappointing defeat Chelsea suffered at West Brom. The indications are that Juve have redoubled their efforts.
Anger
"We saw last year's Juve with that same hunger for the victory, to work and to sacrifice ourselves," said Leonardo Bonucci after the Nordsjaelland win. "It was lacking against Inter, but we showed that if we step up the tempo and the intensity then we can fight it out with anyone. Our anger at the defeat to Inter had to be transformed into positive energy and determination to prove ourselves."
Assistant boss Angelo Alessio also spoke of the team's anger at the loss of their unbeaten run and, tellingly, revealed the focus was already on Chelsea. "Of course we absolutely have to beat Chelsea at home in the next game and earn our place in the next round," said Alessio. "We wanted great intensity and the lads had the right anger and determination for this type of performance. We brought back that pressing on the ball in every area of the field and the style of football we needed."
So what can Roberto Di Matteo learn from Inter's triumph in Turin? For starters, the Nerazzurri coach Andrea Stramaccioni refused to name his team until the last moment. "It was not theatre but rather the best way of stopping Juve dominating for the whole 90 minutes," he told Sky Sport Italia. "We could have lost, of course, but that's just the way I chose to approach it. I knew full well I'd play 3-4-3. I thought Juventus would have an advantage by knowing our tactics beforehand, so why should I make it easier for them?"
It seems unlikely that Di Matteo will seek to ask Juventus any dramatic new tactical questions. While Oscar will again be asked to stick close to Andrea Pirlo when out of possession, the Chelsea boss can be expected to line up the team in their trusted 4-2-3-1 formation. That was of limited success in the home tie in London as Fernando Torres found himself outnumbered at the back and unable to find space in the channels, while Chelsea's full-backs failed to make the most of the space in front of them.
Di Matteo has had huge success so far by empowering his players, utilising minimal squad rotation and adopting a relatively passive approach - he has seen first-hand that pushing for change at Stamford Bridge can be a hazardous business. "I wouldn't expect radical changes," he said at the start of the season. "I don't think there'll be a big overhaul of how we approach the games, new players will be integrated into the team and we will try and get the best out of them. I don't see any reason to change."
Contrast
In contrast, change has been a feature of this Juventus team, despite the fact that only the Milan team of the early '90s and Arsenal's invincibles can match their unbeaten sequence in a major European league. "Where Milan and Arsenal had tried-and-tested tactical formations, Juventus experimented with various systems before settling on the 3-5-2," explained Gabriele Marcotti in the Wall Street Journal.
European football writer James Horncastle concurs. "Players have adapted to the conditions in which they have found themselves, moving from 4-2-4 and 4-4-1-1 to 3-5-2 and 4-3-3, all the while maintaining the same philosophy of play-it-out from the back, keep the ball, create and protect the best defence in Italy," wrote Horncastle in assessing last season's title triumph.
Di Matteo is already one of that small group of coaches to have guided a team to a European Cup success. So it seems perverse to talk of him still having tactical tests to pass. But despite his glorious triumph, the Italian remains relatively inexperienced and he may have to now come up with a new plan if he is to safely negotiate Group E. With Chelsea's future in the competition so uncertain and his own position reportedly under threat, it will be intriguing to see what, if anything, the 41-year-old coach can come up with.