Time on his side
There are plenty of people willing to write off Mario Balotelli. But, ahead of Sunday's Milan derby, Adam Bate argues that there is still time for the AC Milan forward to become a true great.
Last Updated: 22/02/13 1:21pm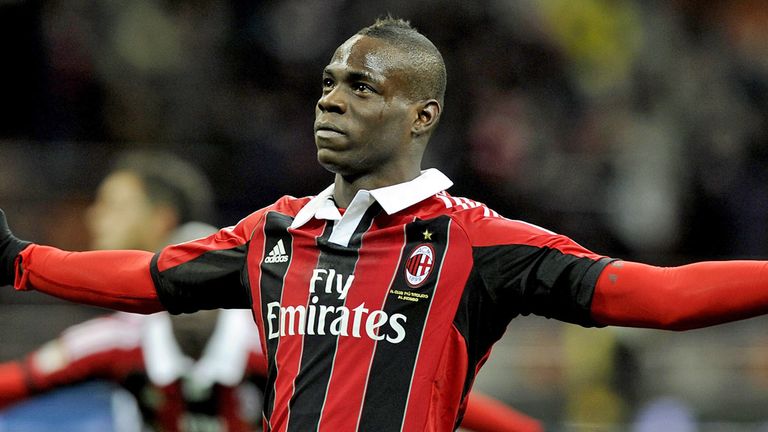 "His behaviour made it impossible for him to remain in the squad any longer so he will join the reserve side for the time being. I think it's a real pity and I also consider it to be a defeat for me." Sounds familiar doesn't it? But these are not some stray quotes from Roberto Mancini that got lost in the Mario media hubbub. They are the words of former Feyenoord coach Bert van Marwijk back in 2003 regarding current PFA Player of the Year Robin van Persie.
Ten years on and Van Persie is seen as the archetypal winner. A clinical finisher who is well on his way to deciding the title race in Manchester United's favour. But as a young player, he was perceived to be trouble. A precocious talent who needed to calm down. No wonder Sir Alex Ferguson has drawn comparisons with Eric Cantona, the man who became a United legend after temporarily retiring from the game at 25 while playing for struggling French side Nimes.
Are these really the sort of figures who are destined to drift out of the game with their careers unfulfilled? Or are they just difficult young men who need time, patience and the right environment in which to settle? After all, the exuberance of Balotelli's youth has often been overlooked in the harsh assessments of the written media and the punditry studios.
Younger
Multi-million pound signing for Manchester City, he may have been. But it is easy to forget Balotelli's age. At just 22 he is younger than former City team-mates Micah Richards and Scott Sinclair - two players who are routinely regarded as a work-in-progress. Even the callow Jack Rodwell, still seen as England's future world-beater by some, is only seven months Balotelli's junior.
Such is the Italian forward's profile in England that his flaws have been pored over by the nation's football fans. And that lends itself to absolute conclusions about his ability and potential. But a quick look at this century's Ballon d'Or winners indicates he is at an age where many great players were just embarking on their journey. At 22, Luis Figo, Pavel Nedved and Andriy Shevchenko were each still playing in their homeland with Sporting Lisbon, Sparta Prague and Dynamo Kiev respectively. Ronaldinho was at Paris St Germain and Fabio Cannavaro was still uncapped.
None had suffered in the spotlight quite like Balotelli. None had experience the pressures of a £20million+ transfer. And none had achieved the remarkable trophy successes of the AC Milan man. For all his frustrations, Balotelli boasts a Champions League win, titles in both the Premier League and Serie A, as well as an FA Cup final man-of-the-match award.
But people demand far more because they can see the talent. Consider the words of Roberto Mancini upon selling Balotelli. "Now he is 22 but life can go quickly and I hope he can improve everything because as a player he could be like Cristiano [Ronaldo] and [Lionel] Messi, if he understands that to be like this you should work hard, your mind should be always on your job, not on the other things that are not important," said the City boss. "I am very sorry for him for this. He has everything to be one of the best players in the world."
Whether he's quite that good remains to be seen. That's the nature of potential. But the early signs at AC Milan are encouraging. Ill-advised racist remarks aside, this is a club well aware they need the young forward every bit as much as he needs them. And it is a club he loves. Balotelli has scored four goals in his first three games for the Rossoneri and is well on the way to hero status.
Hopes
Italy coach Cesare Prandelli certainly has high hopes and has suggested he intends to build the national team around the player. "Balotelli must become our central focus," Prandelli told reporters. "He is not a striker in the old-fashioned sense but a modern forward who can and must continue to score every time he gets a chance."
Milan coach Massimiliano Allegri seems to concur after seeing Balotelli close up. "I am satisfied with what Mario is giving us on the pitch," said Allegri. "But, he has the possibility of becoming a world-class player - if he devotes himself to football."
There is that word again. If. There will surely be further setbacks along the way. And perhaps the doomsayers regarding Balotelli will be proven right one day. But that day is a long way off. Time is still on his side. And if people think the ending to this story is inevitable they haven't learned the lessons of history.