Brits abroad - Ray Wilkins
Former England midfielder Ray Wilkins left Manchester United for AC Milan in 1984 and saw the Italian giants transform into a team that would dominate Europe before the decade was out. Sky Sports caught up with him to find out more about his experiences abroad.
Last Updated: 16/04/13 4:34pm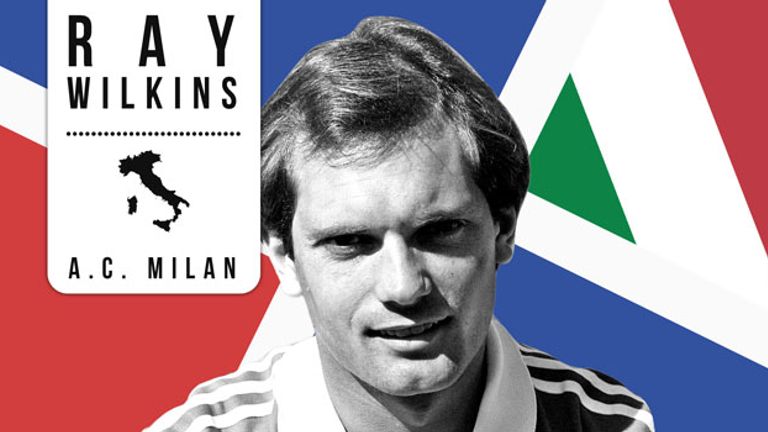 People often call David Beckham a trend-setter. But he wasn't the first Manchester United and England midfielder to pursue a career abroad with AC Milan and Paris St Germain. Back in the 1980s, Ray Wilkins made a similar journey. He may not have had quite so many haircut options but Wilkins certainly has some great memories of time abroad so Adam Bate caught up with him to find out more.
How did the move come about? Was it a big decision to leave Manchester United?
Yes, it was, but Manchester United had made it clear they wanted to do the deal. They obviously had Gordon Strachan lined up to come in from Aberdeen so they thought it was a good time to move me on. AC Milan actually wanted Bryan Robson the year before in 1983 but I think United priced him out of the market. So then they came in for me after we had played Juventus in the European Cup Winners' Cup. That's how it came about and I went over to Milan and had an absolute ball of a time.
You joined in 1984, the same summer Karl-Heinz Rummenigge moved to Inter and Diego Maradona signed for Napoli. You must have felt like you were going to the best league in the world?
I think it was the equivalent then to our Premier League now. Our Premier League is the place to be and I think Serie A was the place to be in Europe back then. The Italian league was full of top stars, the likes of Zico and Michel Platini, not to mention our own Liam Brady and Trevor Francis. So it was clearly the place to be and I had a wonderful time.
It wasn't the best of times for Milan though?
They had been relegated for financial irregularities just before then [in 1982] so it was a transitional time but we did OK. We qualified for the UEFA Cup which for them was a bit of an achievement and we reached the final of the Coppa Italia. Unfortunately we lost to Sampdoria. It was a transitional period but obviously they kicked on from there.
What are your memories of Paolo Maldini and Franco Baresi?
Maldini was as good at 17 as he was when he was 38. He was an absolutely outstanding footballer and one of those guys you are just blessed to have played alongside. As for Baresi, he was by far and away the best footballer I have ever played with. He was just a great player. I don't use the word great too often, I think there are only a handful of guys who were truly great, but I would certainly class Baresi in that category.
Did it help to have Mark Hateley join at a similar time in terms of settling in?
It does help enormously to have one of your countrymen alongside you as far as getting to know the place. But it doesn't help much with the language because obviously you speak too much in English rather than smashing into the Italian and getting it done. But I'd say we both came away with an average linguistic knowledge of Italian so we did OK.
How did you find the training?
The training was very much as British players train nowadays. It was very scientific. It was all geared towards doing things by the watch and we had masseurs all over the place. It really was how our football clubs are run today - we were at least 10 years behind when I went to Italy. Thankfully we have caught up and we might even have surpassed one or two clubs in Europe but make no mistake we needed to in order to bring our game forward.
How did you find the football on the field?
It was very technical. It was almost like playing the international game week-in week-out in terms of the stars we were playing against. The stadiums were packed solid too so it was a wonderful time. A lot of the time when people ask whether it was quicker or slower, I think the first touch was so good it made it look as if the game was a little bit slower. The control of the ball was absolutely exceptional and that was everybody - defenders right through to forward players - so that's why it looked like there was so much time for everyone on the ball.
Do you have any particular highlights of your time there? Games that stand out?
There are probably two games that stand out. We played Inter Milan in the derby with Mark scoring the winner, we beat them 2-1. That was a wonderful occasion. And then we beat the Juventus side that was absolutely ram-packed with international stars. They had Antonio Cabrini, Sergio Brio, Gaetano Scirea, Michel Platini and Zbigniew Boniek but we beat them 3-2 at the San Siro. I thought I'd scored a crucial goal but it just came off the head of Pietro Paolo Virdis and if you try to nick a goal off your centre-forward's head you haven't got a prayer! We beat them 3-2 but it was one hell of a game.
What was the first year of the Silvio Berlusconi era like - Did you get a sense things were going in the right direction?
You did actually. Our previous president Giuseppe Farina was a nice guy but he lived in South Africa so he wasn't very hands on. When your next president is a television mogul then it's a step in the right direction. Milan were able to afford the best players in the world and turn the club into a world force.
The Dutch trio of Ruud Gullit, Marco van Basten and Frank Rijkaard came in soon afterwards. Was your subsequent exit a case of freeing up a foreign slot or did you want to move on?
You were only allowed three foreign players at that time so it was pretty evident we would be moving on. That really wasn't a big hardship at all. When you've got the likes of Gullit, Van Basten and Rijkaard coming in there are not too many players who can keep them out of the team - and Mark and I certainly weren't good enough to keep them out of the team! So it was obviously time to move on.
You went to play for Paris St Germain but only ended up staying for four months. How was that experience?
AC Milan were involved in a summer tournament. The other teams there were Inter, Barcelona and PSG. The club had already told me they would release me but I played in the tournament. Gerard Houllier was the manager of PSG. He saw me play and asked if I'd go and have talks with them, which I did.
The problem was that you were only allowed to play two foreign players out of the three on the books and the other two were a little bit better than me. The one was a guy called Safet Susic, a Yugoslav international who was a wonderfully gifted player, and Gabriel Calderon, an Argentina international.
So I was playing [in the reserves] in the French third division in front of one man and his dog. After about three-and-a-half months Graeme Souness came in for me to take me up to Rangers to play in Scotland - and that was probably the hardest language I had to learn in all my time abroad!
Were you a better player when you returned to British football?
Oh, most certainly. I came back a better player and a better professional. I was much fitter. My time spent in Italy helped the longevity of my career because I ended up playing until I was 41 which was an absolute bonus.
The experience of travelling abroad and playing abroad makes you a stronger person as well. You have to fend for yourself a hell of a lot. It's important to move at the right age as well. I think 27 was a good age to go because I had all the experience on the planet having played around 50 times for my country at that time. So I wasn't walking into something that was totally new to me, instead it was something that I could embrace.
So no regrets about moving abroad and you'd recommend more British players do it?
I would. It's certainly an eye-opener but it is an education from a footballing point of view that you can't beat.