Tevez triumphant?
The bwin 'Skills Series' challenge has located to Italy this week to put Carlos Tevez, Fernando Llorente, Andrea Barzagli and Fabio Quagliarella through their paces with a technical ability test
Last Updated: 08/11/13 2:41pm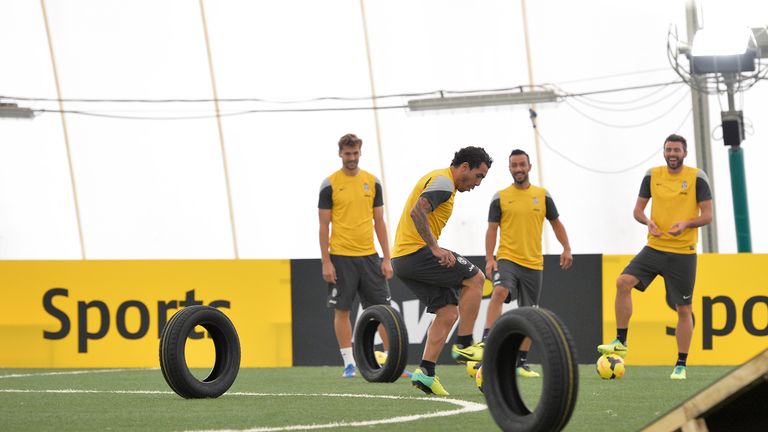 Carlos Tevez has added another accolade to his ever growing list of honours but this time in the form of victory in the latest bwin 'Skills Series' challenge - beating team mates Llorente, Barzagli and Quagliarella in a specially designed football obstacle course.
Following the rugby-based challenge that Gareth Bale and his Real Madrid teammates were tasked with; bwin headed to Turin to give Juventus the chance to show what they've got in the bwin 'Skills Series', as they were put through their paces to test their technical ability and ball control.
The first obstacle the four faced was 'Tyre Ramps' - to test not only their close ball control but also accuracy. Tyre Ramps saw dozens of tyres rolled at the players as they attempted to get from one end of the course to the other before striking the ball at a target.
Next up - the 'Accuracy Hoops' to test the players' shooting accuracy. The challenge saw the players attempting to strike the ball through a selection of hoops covering the goalmouth. Lastly, came the 'Rolling Tyre', which saw the players rolling a tyre across the goalmouth acting as a moving target to strike the ball through.
The players clearly relished the opportunity to show off their skills and Tevez was delighted to finish top, commenting; "Juventus is one of Europe's elite clubs, so we welcome competition whatever form it takes. Normally we reserve our efforts for the opposition, but it was fun to go head-to-head with my team-mates in this bwin challenge and of course, I'm happy to win!"
As Europe's leading sports book, bwin has partnerships with six of the biggest teams in European club football and has set a series of challenges to be undertaken by these elite outfits as part of the bwin "Skills Series". Over the next three months, Manchester United, Bayern Munich, RSC Anderlecht and Olympique de Marseille will all follow in Juventus and Real Madrid's footsteps.
To watch the Juventus video, as well as all the other upcoming team challenges, head to www.youtube.com/bwin and subscribe