Sky Sports News' David Garrido gives his views on Europe's top leagues
Sky Sports' David Garrido expects a thrilling finish in La Liga as the curtain falls on Europe's major leagues.
Last Updated: 01/05/14 10:54am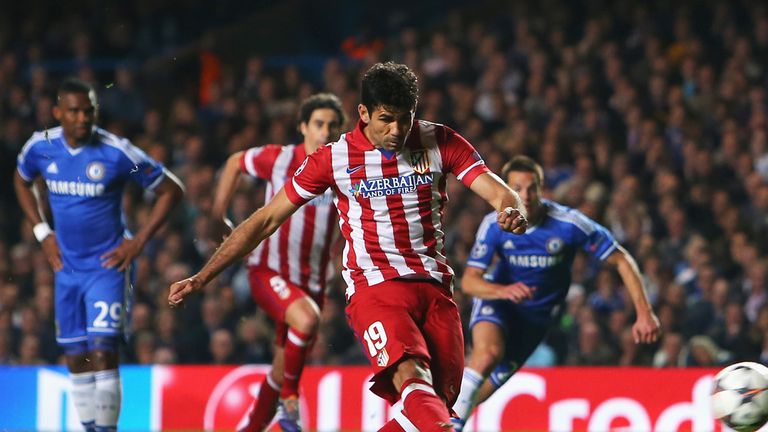 And yet, the signs have been there for some time now. The goalscoring exploits of Diego Costa and David Villa got Atletico to the front of the pack in the first place, but it's their defensive solidity that has kept them there, both domestically and in Europe.
Atletico have been breached just once in the league over the last nine games, the back five of Thibaut Courtois, Juanfran, Diego Godin, Miranda and Filipe Luis doing a sterling job. And so, a first Spanish title since 1996 is now not just in sight but firmly within their grasp - win their next two games against Levante and Malaga, and it's theirs.
Those two opponents have nothing to fight for this season, so the only team who can stop Atletico would seem to be... Atletico. It would be an almighty choke to surrender the league at this stage.
But their season won't end there. Diego Simeone's side found the edge in a tactical battle against Chelsea to prevail 3-1 over two legs, thereby creating the first ever European Cup final between teams from the same city. It'll be Atletico's fifth clash this season with Real Madrid, after beating them in the Copa del Rey final at the end of the last campaign. That game went to extra-time and featured two red cards - expect similar drama at the Estadio da Luz on May 24.
Real have got back to their prolific selves domestically - they've won their last four in the league, scoring 17 and conceding none. But they've now got three games in seven days, with trips to Real Valladolid and Celta Vigo after this weekend's home match against Valencia, and Carlo Ancelotti may even take his foot off the gas if he feels it's hampering his squad's preparations for Lisbon.
The pursuit of "la decima" (literally, "the tenth"), as they hope to take their number of European Cup successes into double figures, has become almost an obsession for Real fans, and for Ancelotti, victory over Atletico next month would be his third time lifting the trophy as a manager, and fifth overall. Still, he's at least got one piece of silverware in his debut season at the Bernabeu with the Copa del Rey, likewise Gareth Bale who scored the winner at the Mestalla.
Are we forgetting someone? Barcelona could end this season with nothing to show for their efforts. It's been a long old slog for the Spanish champions, made even tougher by the sad passing of former coach Tito Vilanova. Twenty thousand fans are estimated to have visited the Nou Camp to pay their tributes. In two weeks' time, that same venue could witness Barca's players giving Atletico the guard of honour as newly-crowned La Liga champions.
But just as the football world came together to pay tribute to Vilanova, so social media was united in praising Dani Alves, as he took a bite of a banana after it was thrown at him at Villarreal. Poking fun in the face of racism was a sharp and mature response from the Brazilian, and Villarreal themselves took the right course of action by banning the fan responsible.
Don't rule Barca out of the title race yet - they've found some spirit with back-to-back comeback victories in their last two league games and, as we've found with the Premier League, the leaders can drop points to set up an enthralling finale.
Spain's battle to avoid the drop is equally as fascinating. Real Betis may be down, and while Almeria and Valladolid currently occupy the other two relegation places, four other teams up to Granada in 14th could yet be dragged into a scrap.
GERMANY
The fizz has gone out of Bayern Munich's season after clinching the Bundesliga title in record time, and it's fair to say they've paid the price for their lack of intensity. A draw against Hoffenheim was followed by defeats against Augsburg and Borussia Dortmund, and their woeful first-half display against Real Madrid this week meant they went out of Europe with a whimper.
Bayern's focus now shifts to the German Cup final, as they attempt to at least redo the domestic double, but there they'll meet an in-form Dortmund once more. That recent 3-0 loss against their rivals might not have seemed much at the time, but it could prove to be a big psychological boost for Jurgen Klopp and co. Dortmund also won the last final they contested, the German Super Cup last July, and you can bet Klopp will be using all of that to motivate his players.
Schalke need a point to secure third place, while the race for fourth looks like a fight between three teams - Bayer Leverkusen (now without Sami Hyypia at the helm), Wolfsburg and Borussia Monchengladbach, with the latter two meeting on the final day of the season. It's in Leverkusen's hands, and with games coming up against two of the bottom five, they shouldn't let this one slip after a poor second half of the season.
The other big story in Germany has been the fall and fall of seven-time champions Hamburg, as just three wins in 19 league games has left them needing a miracle to avoid relegation. Former Hannover coach Mirko Slomka came in in mid-February and enjoyed a win over Dortmund in his first game in charge, but while things have gone well at the Imtech Arena, Slomka hasn't turned around their catastrophic away form and it's now eight straight defeats on the road.
Second-bottom Nurnberg are another historically successful team on their third manager of the season. Eight defeats in nine led to Gertjan Verbeek being shown the door, and Nurnberg are all but down, lying six points from safety with two games to go and a far inferior goal difference to Stuttgart. One man who deserves none of the blame is Josip Drmic, having netted 16 goals.
ITALY
In Serie A, Juventus have maintained their comfortable lead (eight points with three matches left) with ease and can clinch the title on Monday night as they host Atalanta.
Fernando Llorente has again proved his worth in recent encounters, and it just goes to show how shrewdly the club strengthened last summer. Llorente and Carlos Tevez have scored 38 times between them, but cost only a combined £8m, with the Spaniard arriving on a free transfer.
Roma have battled gamely to keep the title race going to the third-last weekend, but even a run of nine consecutive wins hasn't been enough to make up the ground. Mattia Destro also showed his good and bad side, scoring a hat-trick at Cagliari, but he was then retrospectively punished for punching Davide Ascoli during the same game. Destro should be back as Roma welcome Juve to the Stadio Olimpico next Friday, and then finish their campaign at Genoa.
Rafael Benitez's Napoli have been coasting in the league recently with draws at Udinese and Inter Milan, but with a place in the Champions League qualifiers virtually assured, his priority is Saturday's Coppa Italia final against fourth-placed Fiorentina. It's a trophy Rafa hasn't won before, so victory would enhance yet further one of the most impressive CVs in European football.
At the bottom, Catania have hired and fired again, with Maurizio Pellegrino their latest man in poisoned-chalice position, and the managerial madness continues at second-bottom Livorno too. Domenico di Carlo lasted exactly three months, with the club then turning to the man he replaced, Davide Nicola. Both Catania and Livorno look doomed, but it's one from three for the other relegation place - Bologna, Sassuolo and Chievo the sides in trouble.
FRANCE
Paris Saint-Germain are in an identical position to Juventus in the French top division, knowing another three points would guarantee them a successful defence of their title. They'll have to wait until Wednesday, though - Rennes and Guingamp are Saturday's unlikely French Cup finalists, so both PSG and Monaco, as respective league opponents, will have their weekend fixtures put back.
Laurent Blanc's side have had an up-and-down month. A galling defeat on away goals to Chelsea in the Champions League obviously left a bad taste in the mouth, as they lost at Lyon in the league, but they then beat the same opponents in the French League Cup final six days later, thanks to an Edinson Cavani brace. The Uruguayan has found his mojo again in the last few games - good news for his World Cup momentum, bad news for England.
For Monaco, second place is a near certainty, but the most intriguing subplot has been the form of Dimitar Berbatov. His utterly insolent lob against Nice is proof he is class when he puts his mind to it, and he followed it up with two more goals at Ajaccio. Eight in 13 is a none-too-shabby goals-to-games ratio in any league, especially for a 33-year-old with question marks surrounding his attitude and temperament.
Lille can secure a place in the Champions League qualifiers with a win at Bastia on Friday night, while the race for the Europa League is on between the two Rhone rivals, Saint-Etienne and Lyon. At the bottom, Ajaccio and Valenciennes are already down, and Sochaux are most likely to join them in Ligue 2.
But if results go their way, the side on the Swiss border could force a winner-stays-up battle with fourth-bottom Evian. Tired legs are the one common denominator across Europe - for some, they'll have to go just another 90 minutes to secure the prize, but for others, especially in Spain and England, these next few weeks will push them right to the limit.