A look at the latest round of Serie A fixtures
A look at the midweek fixtures in Serie A, with Juventus looking to preserve their lead at the summit.
Last Updated: 29/10/12 6:20pm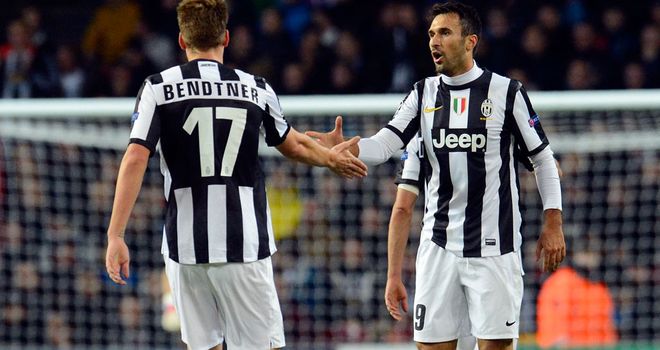 Juve were 1-0 winners in Sicily, although Arturo Vidal's goal should have been disallowed for offside against Nicklas Bendtner while the hosts had an effort incorrectly ruled out in the first half.
Juve admitted their fortune afterwards but chief executive Giuseppe Marotta denied suggestions player power had forced the referee to cancel out Gonzalo Bergessio's 25th-minute strike.
"I agree that yesterday there was a refereeing error," Marotta said in remarks reported by Gazzetta dello Sport.
"But I categorically deny the notion of a conspiracy, that Juve affected the result. Our club behaved itself well. Moreover, even if the goal hadn't been ruled out, no one can say that the match would have finished that way."
Juve go into the midweek clash with Bologna in Turin three points clear at the top of Serie A with closest challengers Napoli facing a trip to Atalanta, who have taken four points from their last three games.
Improving Inter Milan moved up to third with their seventh successive win - a 3-1 triumph at Bologna - and defender Andrea Ranocchia is hoping to continue their wonderful run when they host Sampdoria on Wednesday.
He said of the Bologna game: "I'm very pleased with the three points because they were important and very difficult to earn.
"We knew it would be tough. We ran like mad and the forwards gave us a big hand.
"We were excellent and we have to continue like this. We played a great match and now we need to focus on the midweek game."
Under-fire AC Milan boss Massimiliano Allegri enjoyed some respite with Saturday's victory over Genoa and he is hoping the Rossoneri can kick on at Palermo tomorrow night.
He said at today's press conference: "The team's performances have been comforting and we have to persevere with what we're doing.
"We need to be more lucid in the final third and I'm sure we'll get out of it. The players believe in what they're doing on the pitch and I'm sure that we'll get the win tomorrow.
"We have to improve in certain situations but I can't complain about our intensity and application. I have to improve more than anyone."
Lazio, in fourth, will look to bounce back from their defeat to fifth-placed Fiorentina when they host Torino while Roma go to Parma.
Also on Wednesday, Catania will use their sense of injustice as a spur to win at Udinese, Cagliari host rock-bottom Siena and strugglers Chievo and Pescara meet in Verona.
Thursday's match sees Fiorentina go to Genoa.