Inter chief breaks club's media silence to launch a tirade against ref Piero Giacomelli
Inter Milan chief Massimo Moratti has launched a tirade against referee Piero Giacomelli after the draw with Cagliari.
Last Updated: 19/11/12 10:57am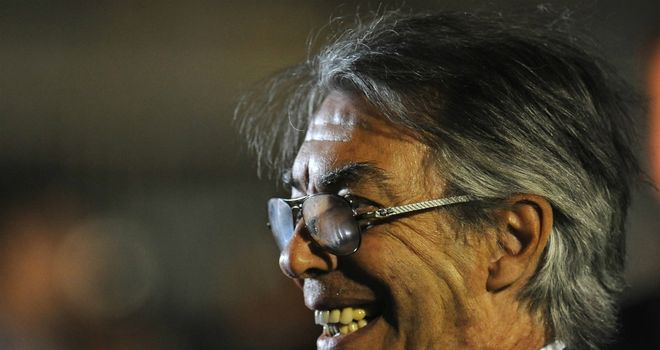 Nerazzurri head coach Andrea Stramaccioni was sent to the stands for his overzealous protests after Giacomelli chose not to blow his whistle when Davide Astori brought Andrea Ranocchia down in the box at the death.
Rodrigo Palacio's opener had been cancelled out by Cagliari's Marco Sau before Mauricio Pinilla gave the visitors the lead in the second half, leaving Astori to score an own goal and hand Inter a point, even if Moratti insisted his club had then been unfairly denied a final shot at victory.
The news soon emerged that Inter would not be speaking to the press but Moratti could not hold back, telling inter.it: "We have been penalised for the last three games straight.
"Fortunately, we won in Turin (against Juventus) thanks to the grace of God.
"I do not like the attitude of the referees and they stopped us from getting the result today. I cannot just stay silent as I have to point out the injustice."
Moratti then risked the ire of Juventus by referring back to the 'Calciopoli' scandal of 2006, in which various clubs were punished for allegedly rigging games by selecting favourable referees.
For their involvement, Juve were relegated to Serie B for the 2006-07 season but the Turin giants have since made a full recovery.
Antonio Conte's men lead the current standings by four points having claimed the Serie A title last season.
Moratti added: "I would hate to return to certain situations we have had in the past.
"There is no plot against us, it's just that the referees are incapable of doing their jobs properly.
"The penalty was as clear as day. There are certain pundits who try to save face by pretending it wasn't a penalty.
"But if that wasn't a penalty then I don't know what is."
Juventus' response to the veiled dig was certainly unusual, as a statement soon appeared on their official website that simply read: "No comment."
Attached to the statement, however, was a file that outlined the Italian Football Federation's (FIGC) ruling that Inter had also been involved in the Calciopoli scandal.
The document, written by FIGC prosecutor Stefano Palazzi, explained how Inter could not have been punished in July 2011 as the statute of limitations had expired.
Cagliari boss Ivo Pulga was keen to stress that his side had not stolen a point from the San Siro.
He told the Corriere dello Sport: "I can sincerely say that I saw nothing from the bench.
"There are situations when you could give a penalty or you might not, and we accept the referees' decisions.
"Referees are only human and even if there were five of them they could still make mistakes.
"When a referee makes a mistake there is a more dramatic reaction than when a player makes a mistake but it all evens itself out by the end of the season."