Andrea Stramaccioni rues Inter Milan's 1-0 defeat to Parma
Inter Milan coach Andrea Stramaccioni admits his players were "caught napping" in their shock 1-0 defeat to Parma.
Last Updated: 27/11/12 11:53am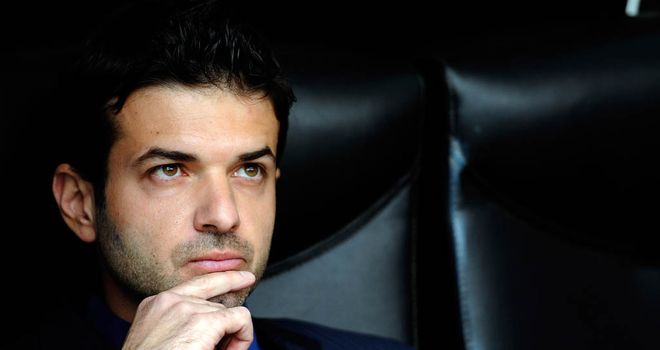 Inter had the chance to close Juventus' lead at the top to a single point, but Nicola Sansone decided otherwise, condemning the Nerazzurri to a second league defeat in three games with a fine solo effort 15 minutes from time.
Stramaccioni's men slipped to fourth as a result and the young tactician was quick to blame a lack of concentration.
He told inter.it: "We didn't start off badly in the first period. We tried to take the game to a Parma team that was set out well, and (Jonathan) Biabiany was a bit of a handful, but we didn't start badly.
"However, the second half was one of the worst we've played. We didn't do well.
"Our biggest regret is the goal we conceded. It was a bad mistake and we paid a heavy price for it. We were caught napping.
"It's not as if Sansone dribbled past our players, the team just opened up for him.
"I can't deny we've been unlucky with injuries recently but I don't want to make excuses. We've faded, we weren't able to produce enough intensity in our game."
There was inevitably a question about Wesley Sneijder, who will not feature in the first team until he has agreed to take a pay cut.
"I think his situation is more simple than it might seem," Stramaccioni added. "I have the final say on the matter and I chose not to include him in the squad.
"It's not a punishment, I see what goes on in training during the week and I make my choices according to what is best for Inter.
"Anything else, you need to ask the club about, I'm not interested in what goes on away from the pitch."
For Parma boss Roberto Donadoni, the win marked only the beginning of what he hopes will be a surge towards the European places.
Donadoni will not allow his players to rest on their laurels, though, telling fcparma.com: "We cannot talk about (Europe) just yet.
"We have won difficult games and lost ones that looked easier on paper.
"This win has taught us that we can never be satisfied. But we know what we want and we need continuity to get there.
"The whole squad needs to make that step up in quality because I don't think we can rely on just one player to decide games."