Tommaso Rocchi will move from Lazio to Inter Milan on a short-term deal
Tommaso Rocchi has confirmed that he will move from Lazio to Inter Milan on a short-term loan deal.
By Nadia Carminati
Last Updated: 02/01/13 10:11am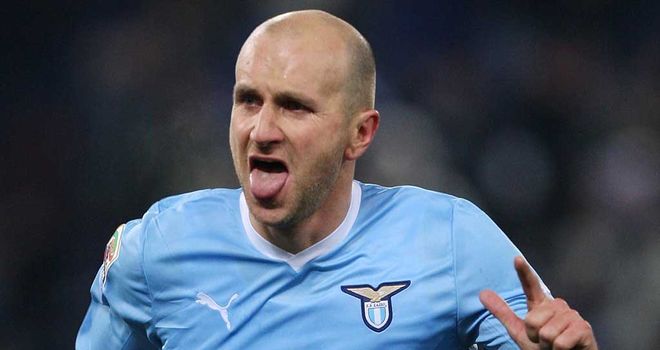 The Lazio skipper has made over 240 appearances for the capital giants over an eight-year spell, but has been out of favour with manager Vladimir Petkovic.
The former Empoli star has made just three appearances this season but a move to the Nerazzurri could provide Rocchi with a fresh opportunity.
Rocchi, 35, admitted to reporters on New Year's Day that an agreement was in place for a move, despite the fact that he still wants to end his career at the Stadio Olimpico.
The player's agent Fabio Parisi confirmed that both parties were in negotiations last week and that a deal was imminent.
Rocchi has now confirmed that he will be moving, saying: "Let's say there is an agreement about everything, even if there are a few minor details that are missing.
"Both clubs consider the transfer to be a done deal. I hope to come back to Lazio in the not too distant future, because I have some unforgettable memories here."
He is expected to undergo a medical and an official announcement will be made when the Italian January transfer window officially opens on Thursday.