Inter Milan's Wesley Sneijder open to move to the Premier League, according to agent
Inter Milan playmaker Wesley Sneijder would welcome a move to the Premier League, according to his agent.
Last Updated: 04/01/13 6:25pm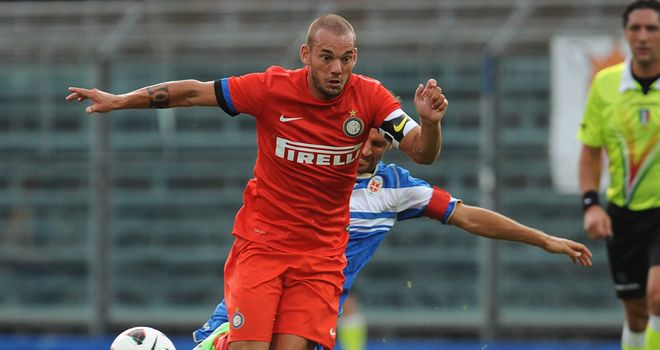 The 28-year-old Holland midfielder is being chased by a number of Europe's top clubs and, although his representative Soren Lerby dismissed speculation linking him with QPR, may opt for a switch to an English club.
Lerby told BBC Sport: "He is absolutely not interested in QPR and we haven't heard directly from anyone there.
"England probably has the top league in Europe, so it could appeal, but Wes would want to play for a top team."
Sneijder is currently embroiled in a contract dispute with Inter and has not played for the Milanese giants since September 25 - despite regaining fitness over two months ago.
Lerby added: "Wesley is one of the best midfielders in Europe. He is fully recovered from injury and just loves to play football, so we need to find a solution to his situation with Inter.
"It's a very, very strange situation for all of us. We should know a lot more in the next week to 10 days."
Tottenham have been tipped as Sneijder's likely destination in the past but Spurs announced they will sign midfielder Lewis Holtby from Schalke in the summer and Moussa Dembele has been in impressive form since arriving at White Hart Lane.
Former Spurs boss Harry Redknapp had earlied claimed he had been offered the chance to take Sneijder to Loftus Road this month.
"I was asked by one agent if I wanted to sign Sneijder," said Redknapp.
"Of course I do. However, he's on about £200,000 a week and now he wants to join QPR?
"I won't name the agent, but let's just say I think a deal is unlikely."