Preview for the Serie A clash between Inter Milan and Pescara
Inter Milan coach Andrea Stramaccioni refuses to allow injuries to disrupt qualifying for the Champions League.
Last Updated: 11/01/13 2:07pm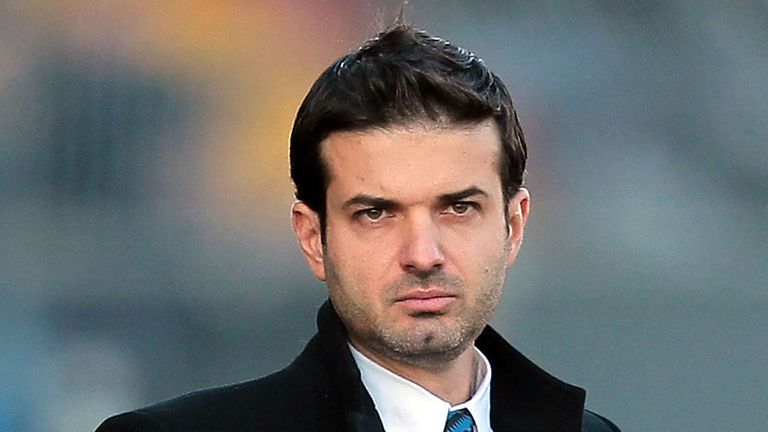 The Nerazzurri have been plagued with injuries and suspensions, with Stramaccioni managing to cope with the absence of up to 10 first-team players for the majority of the season so far.
Inter kept in touch with Serie A leaders Juventus throughout the autumn, but tiredness finally took its toll over the festive period, with defeat at Lazio and a disappointing home draw against Genoa preceding last week's surprise 3-0 loss at Udinese.
Inter are now nine points shy of Juve but Stramaccioni can finally see an end to his personnel problems, as a host of players return to contention for tomorrow's meeting with Pescara.
He said: "The goal remains the same - to get back into the Champions League.
"We are planning to get back into the top competition in Europe through the front door, by finishing in the top-three places in Italy.
"We have lost some points on the road, we regret that, but until we went down to 10 men against Udinese I had the feeling we could have got something.
"A lack of hunger and a bit of bad luck cost us against Lazio, Udinese and Genoa, but now it is important to start winning again."
"The injuries have been unpredictable and we have picked up a lot during games. We have done a great job coping with them.
"My choice for tomorrow is a conservative one. I am not using players who are in danger of a relapse so in that regard, (Gabi) Mudingayi is ready, (Philippe) Coutinho is nearly there and (Joel) Obi could get some minutes.
"(Diego) Milito picked up a knee problem before the Udinese game but there have not been any complications. He is doing well and he is available for tomorrow - maybe he's not at 100 per cent but he's recovered.
"There has been a drop in results but we are convinced that it was a case of a good team going through a tough time rather than an average team just having a good start.
"My Inter side will be there to the very end, that's what I believe. Now we must prove it on the pitch."
Pescara realised exactly how tough life in the top flight would be when Inter won 3-0 at the Stadio Adriatico on the first day of the season, but confidence is high in Abruzzo once again.
The Delfini climbed to 15th with a surprise victory at Fiorentina but are without injured strikers Gianluca Caprari and Ante Vukusic for the trip to Milan.
Pescara have not face Inter at the San Siro since 1993, when they lost 2-0 thanks to a brace from Ruben Sosa.