Andrea Stramaccioni feels Inter Milan still have plenty of time to turn their season around
Head coach Andrea Stramaccioni feels Inter Milan still have plenty of time to turn their disappointing season around.
Last Updated: 11/03/13 10:53am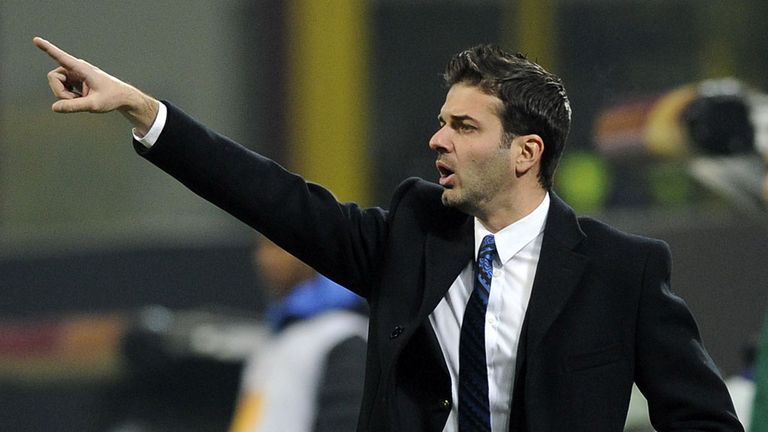 Inter went into Sunday night's home meeting with Bologna eager to atone for a 3-0 Europa League defeat at Tottenham but it was not to be, as a solitary Alberto Gilardino strike handed Bologna a 1-0 win.
A deflated Stramaccioni watched his side slip to fifth in the Serie A table amid a chorus of boos and whistles, with Inter president Massimo Moratti yet to issue his coach with a public vote of confidence.
The 37-year-old remains confident, however, that Inter can catch third-placed AC Milan and qualify for next season's Champions League.
He told inter.it: "There are still 10 matches to play, we're not quite performing as we'd like at the moment but there are still 10 games left.
"We were lucky not to concede in the first half when Bologna deserved to score. Yet their goal came in the second half when we were playing at a higher tempo.
"We're obviously not having the best time of it but, as I've said, there are still 10 games to play.
"It's a tight league where every side can cause you problems. There are still 10 matches to go, we can and we must do it."
Stramaccioni does not fear facing the sack ahead of Spurs' arrival in Milan for Thursday's second-leg encounter.
"I make mistakes just as everyone does, I think," he said. "Moratti's vote of confidence? I want to thank the president with results on the pitch.
"It's important now to win matches and show consistency, we can still do it. Yes, we've missed another opportunity but it's still on.
"It's better if we see where we are come the end of the season, it'd be a huge mistake to have a slump now.
"We're all angry and disappointed but we won't let it get us down."
Javier Zanetti's 600th Serie A appearance for Inter was not a night the Argentinian full-back will want to remember, but he shares some of his coach's optimism going into the season run-in.
"We needed a convincing performance from everyone," the 39-year-old said. "We all must try and give more.
"It's a tough time, you lose a bit of belief when things aren't going well, we now need this to end as soon as possible because it can't continue - we need to rediscover our confidence.
"We're working on it but it's not easy."
Bologna, meanwhile, reached 10th place thanks to a third consecutive win, having struggled to leave the bottom five for much of the season.
Rossoblu head coach Stefano Pioli told La Repubblica: "The quality of our results has really improved and that helps us believe in our own abilities.
"It would have been easy to stray from the right path here but instead we were excellent. The team now has great self-belief and that's clear for all to see."