Andrea Stramaccioni does not feel he is on the verge of the sack at Inter Milan
Andrea Stramaccioni does not feel he is on the verge of the sack ahead of Inter Milan's clash with Tottenham.
Last Updated: 13/03/13 2:45pm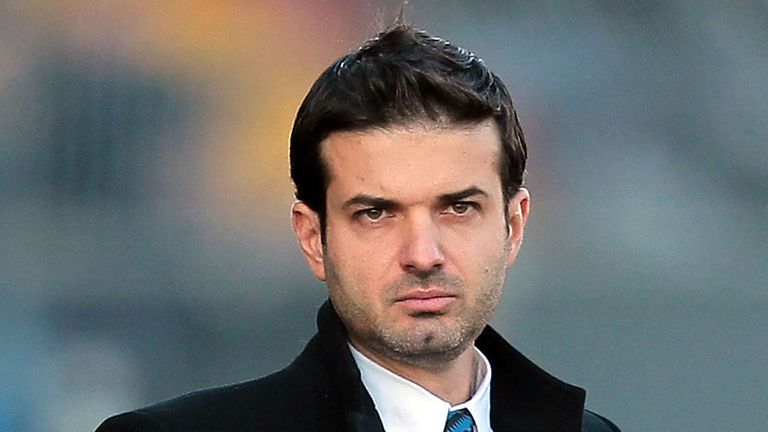 Stramaccioni's Inter are facing almost certain elimination from the Europa League after they were thumped 3-0 by Tottenham in the first leg of their last-16 tie at White Hart Lane last week.
To make matters worse for Stramaccioni, his team then went on to lose 1-0 at home to Bologna last weekend - a result which saw the 18-time Italian champions drop to joint-fifth in the table, four points adrift of the Champions League qualification spots.
Inter president Massimo Moratti said he still had faith in Stramaccioni, but conceded that he may axe the 37-year-old if he does not qualify for the Champions League.
With games against Napoli, Juventus and Lazio still to come before the end of the season, Stramaccioni's chances of success seem bleak, but on Wednesday he sounded a defiant note to his doubters ahead of Thursday's second leg against Spurs.
"I cannot say that I have not always felt 101 per cent support from the president, but at the end of the day, he is the president and he can make any decision he wants, but I don't get the feeling he wants to get rid of me," Stramaccioni told a press conference.
"In fact, I can say that the encouragement and support he gives us in difficult times like this is even greater than when things are normal."
Although Stramaccioni's priority is getting Inter back in to Europe's premier club competition, the way in which his side were blown away by Spurs last week cannot have helped his morale or that of his young squad.
He rang the changes at the weekend following the Gareth Bale-inspired defeat in London, but the move backfired as Inter lost at home to Bologna, who have been on the fringes of the relegation zone for most of the season.
Stramaccioni, who was a surprise choice to succeed Claudio Ranieri last March, has swung the axe again, with Alvaro Pereira, Dejan Stankovic, Ezequiel Schelotto, and Marco Benassi all excluded from the squad for Thursday's game against Andre Villas-Boas' men at the San Siro.
Bale's absence due to suspension, and a number of injuries in the Tottenham squad, make the task of qualifying much easier, but Stramaccioni sounded doubtful about his chances of winning the tie.
"We want to do well and honour (the competition), but we know our situation and our numbers are limited," said the Inter boss, who is without star duo Diego Milito and Walter Samuel through injury.
"Football is strange... 3-0 is difficult to overturn, but we'll be taking to the field to win.
"At the moment, we all know the importance of the 11 league games we have left, but our focus is on Tottenham because I and my players want to do well.
"We want to do well in front of our fans and win the game, and then as far as qualifying for the next round is concerned, we'll have to see.
"There's no point denying it - we're not playing well at present and it's up to me, as the coach, to find the way to give my players more security which they don't have."