Midfielder Dejan Stankovic leaves Inter Milan and pays tribute to the fans
Dejan Stankovic has left Inter Milan after the final year of his contract was cancelled by mutual consent.
By Nadia Carminati
Last Updated: 06/07/13 4:21pm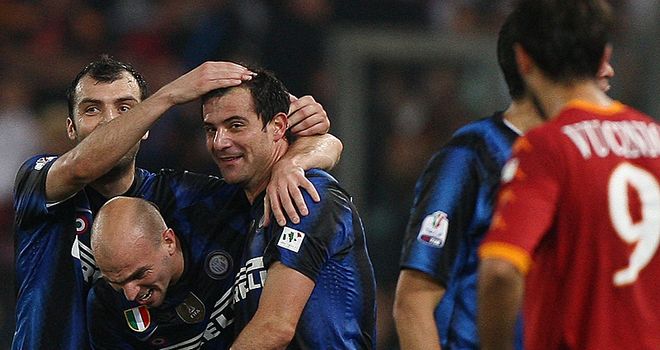 Stankovic joined Inter from Lazio in 2004 and the 34-year-old won five Serie A titles and the UEFA Champions League, among many other trophies, during his time at the San Siro.
However, he missed a large part of last season due to injury and has paid tribute to the Inter fans following confirmation of his departure.
"I don't know if I can find the right words to say goodbye and to thank you properly for everything you have given me, your affection, your trust and your honesty," wrote Stankovic in a letter to fans on Inter's official website.
"The last ten years have been the best of my life. I have grown both as a man and, with immense joy, as a footballer.
"My family and I want to thank the Moratti family. I'd like to mention my president in particular: he gave me the opportunity to wear the Inter shirt, which I have been happy and extremely honoured first of all to play in, and then with which I was able to win everything there was to win.
"I'll never forget the day I joined this club and my first press conference with our honorary president Giacinto Facchetti, a splendid person in every way. The photo I have of that day is one of my most precious memories. That was the day my life as a Nerazzurri player began.
"The thought that I won't be pulling on the Inter shirt anymore brings tears to my eyes but I've always been frank and the tears are real.
"Unfortunately, in life there comes a time when you have to move on and look forward. Those of you who know me know that I'll do so with great pride and determination, as I've always tried to do both as a man and a footballer.
"During my time in Milan I've played alongside some wonderful footballers and above all some wonderful people. It's hard to find the words to thank them all.
"It's been an honour to wear these colours and they will always remain on my skin. I'll never remove them; nobody can ever remove them."