Serie A: Massimo Moratti could keep Inter Milan role as president
Massimo Moratti has revealed Inter Milan's new owners have offered him the chance to remain as president of the club.
Last Updated: 25/10/13 11:33am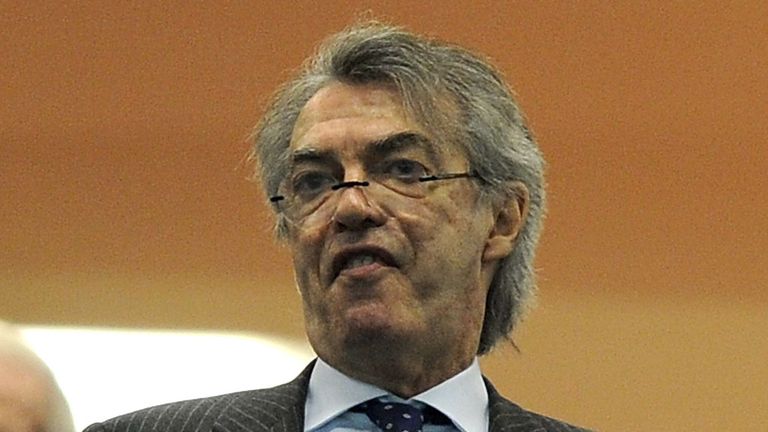 Moratti, who had owned Inter for the last 18 years, last week sold a majority stake of Inter to Indonesian company International Sports Capital, led by billionaire Erick Thohir.
"Having been used to a certain role, it's difficult to assume another one," Moratti said to Inter Channel. "We are talking to the new owners and they courteously have asked me to remain as president.
"We will see. I don't think I have the right to say that it will always be me (as president) as I think Inter has its own beautiful story and must continue it with those that have the goodwill to take command of the club."
Inter became the second Serie A club to be foreign-owned - Roma have been controlled by an American consortium since May 2011.
Moratti's family have owned or been directors at Inter for nearly half a century.
He bought the club in 1995 from Ernesto Pellegrini, following in the footsteps of his own father Angelo, who owned Inter from 1955 to 1968, during the side's 'golden age'.
The Milan-based club have won the league title 18 times, five under Massimo Moratti, and have also lifted the European Cup on three occasions.
The 68-year-old Moratti, who has kept a 30 per cent stake of the club, is convinced Inter have a good future ahead under Thohir.
"It's true that the new owners have not experienced 50 years of Inter's history," Moratti said.
"But when you become president, you become a fan very fast.
"The only possible difficulty for them is that they are far away and hence, they are prudent.
"Thohir is a nice, simple and happy person. He is ambitious and hardworking. He has group behind him that can give a lot.
"It was difficult to find an Italian partner because no-one came up with an offer.
"By selling the club to foreigners we will increase the number of Inter fans."