Cristian Chivu retires from football after leaving Inter Milan
Former Romania international Cristian Chivu has confirmed his retirement from football after leaving Inter Milan.
By Nadia Carminati
Last Updated: 31/03/14 2:56pm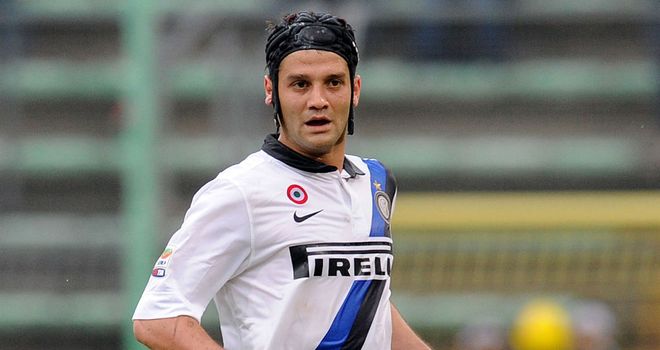 The 33-year-old has been struggling with a foot injury this season which has meant he has not played a single match for Inter.
His current deal was due to expire in the summer, but he and Inter have come to an agreement to terminate it early.
A statement from Inter read: "After seven seasons, Inter and Cristian Chivu announce the mutual termination of the contract between the Romanian defender and the Nerazzurri.
"The club wishes to thank Cristian for his great strength, loyalty and the key role he played in his years that will always be remembered as among some of the most glorious in Inter's history.
"Inter wishes to send a warm thanks to the player, as well as his wonderful family, for all he has done for the club."
Chivu later released his own statement confirming he would no longer be playing.
"I would like to thank all the clubs I have played for, first for their trust in me and also because they have offered me the opportunity to develop and grow in various countries and cities, which helped me become a better person," his statement read.
"I thank all the supporters of the teams I have played with, as without their support and endless passion, our victories would not have been possible. I have always respected and honored the history and the tradition of all the clubs I played for.
"I have entered the football world as a child, a dreamer with a lot of ambition - I leave it with a few gray hairs, many scars and the conviction that my heart is where it belongs, even if I have always gave it to the teams I played with.
"Dad, I hope you are proud of the man I have become. This is the end of a journey... and the beginning of the rest of my life!!!"
Chivu began his career with his home-town club Resita before moving on to Universitatea Craiova. He earned a switch to Ajax in 1999, before Roma snapped him up in 2003.
In 2007, he joined Inter Milan where he enjoyed major success, winning three Serie A titles, as well as the UEFA Champions League, two Italian Cups and the FIFA Club World Cup.