Arsene Wenger - Gervinho can follow Robin van Persie & Thierry Henry at Arsenal
Arsene Wenger thinks Gervinho can follow in the footsteps of Thierry Henry and Robin van Persie at Arsenal.
Last Updated: 05/10/12 3:47pm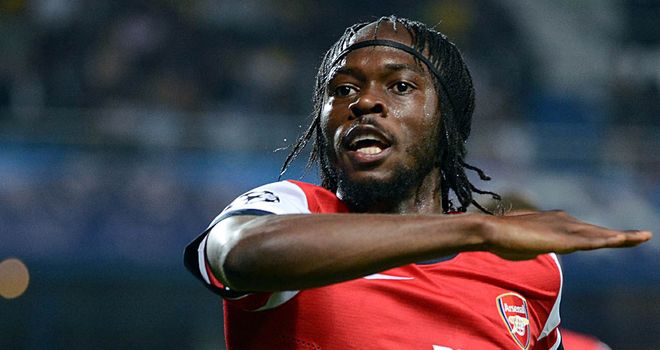 The Emirates Stadium boss has been playing the Ivory Coast international through the middle of his forwards and he is expected to fill the same role against West Ham United on Saturday.
Gervinho consequently netted his fifth goal in as many games to help Arsenal beat Olympiakos in midweek to stay on course for the knockout stages of the Champions League.
And Wenger thinks the 25-year-old, along with Theo Walcott, can follow the pattern of Henry and Van Persie, who were converted from wide-men to star central strikers at Arsenal.
"I did that with Robin van Persie. He was more a technical player, it was not obvious to put him central striker," said Wenger.
"I did it with Thierry Henry, I did it now with Gervinho and I think I will do it as well with [Theo] Walcott.
"They have other qualities that are well suited to our game. Our game is based on movement and technical ability and they have that."
Gervinho struggled in his first season at Arsenal and, having arrived from Lille in a £10.5million deal in the summer of 2011, he scored just four goals in the Premier League.
But he has recently admitted he has addressed his style of play to life in England by making sure he is physically ready for the challenge.
"The thinking was to use his quality of movement and his pace, but of course you have to overcome a little bit of an obstacle that he doesn't correspond well to the traditional image you have of a central striker," said Wenger.
"He is not massive, is not a guy who will go for high balls, but he can only try and I must say, he has improved his finishing and it is working very well at the moment."