AC Milan coach Massimiliano Allegri wants to emulate success of Roma boss Zdenek Zeman
AC Milan coach Massimiliano Allegri wants to emulate Zdenek Zeman's success by stealing Roma's league position.
Last Updated: 21/12/12 3:39pm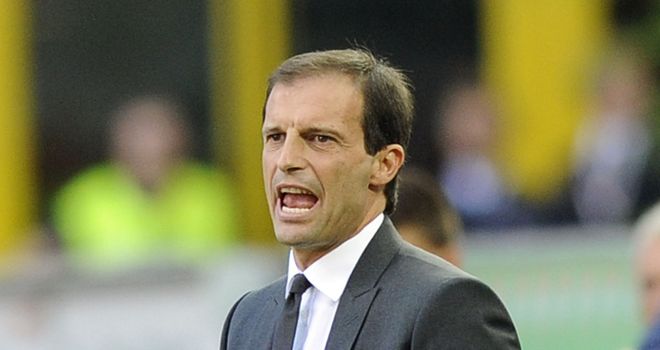 The Giallorossi boss has steered the club he joined in the summer into sixth place, with a Champions League spot now the minimum requirement from Roma's American owners, but Milan have improved recently to close to within two points.
Allegri is a confirmed admirer of the veteran Czech tactician but he will give him no quarter in the quest for a top-three berth.
He told acmilan.com: "I think he's one of the best coaches around.
"Roma is a team that once they start to play and develop their attacking part of the game, they get very dangerous.
"We have to play a good game from every point of view knowing that we'll be up against one of the three best teams in the league with players that suit Zeman's game well.
"It'll be a beautiful game. We have to be careful with the adjectives as it took us two months to start looking like a team.
"In their way of playing Roma tend to leave you some space even though lately, they've been conceding a lot less. We'll have to play an intelligent game.
"We have to continue working as we haven't done anything yet. We're growing as a team and we only have three injuries in (Nigel) De Jong, (Alexandre) Pato and Didac Vila.
"We have to stay calm and keep balanced as we have done during the difficult moments."
Zeman had been considering playing midfielder Daniele De Rossi at centre-back given Marquinhos' injury, but the young Brazilian has recovered in time to feature.
The Roma boss is not surprised the Rossoneri have forged their way back into the race for Europe despite a dismal start to the season.
"At the end of the day, AC Milan are AC Milan and they've been competing at the top for years," he said. "Last season they lost the title over the last few matches. They've got a strong squad, although they've lost three key players.
"They've once again got the league's top scorer, as (Stephan) El Shaarawy has picked up where (Zlatan) Ibrahimovic left off.
"I think Roma against AC Milan is traditionally a big match in Italian football. It means a lot to the club and fans and it's often produced great games. I hope tomorrow's is entertaining too."
The Giallorossi have not enjoyed recent encounters with Milan, though.
Ibrahimovic - now with Paris St Germain - scored a brace in each of last season's meetings as the Rossoneri claimed all six points.
Marco Borriello scored the winner in a 1-0 victory at the San Siro in December 2010 but Roma have not beaten Milan on home turf since 2008.