Serie A: Roma boss Rudi Garcia focused on positives after 2-2 draw with AC Milan
Roma coach Rudi Garcia preferred to focus on the positives after his team were held to a 2-2 draw at AC Milan on Monday.
Last Updated: 17/12/13 10:38am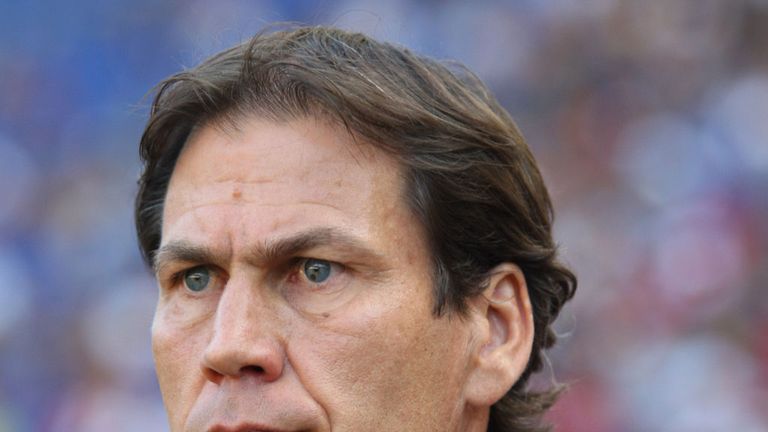 The outcome at the San Siro left the Giallorossi unbeaten in the league but means they now trail Serie A leaders Juventus by five points.
"We had so many scoring opportunities but a point against Milan at San Siro is not a negative thing," Garcia said to Gazzetta dello Sport.
"This is a good point away from home.
"It's true that we could have done better but we played to win and that is what I want from my team.
"We have been playing for five months and have not lost a game, so that has to mean that the team is in very good shape."
Not since March had Roma, who have the best defensive record in Serie A, conceded more than one goal in a game.
"From a football standpoint, I have to be disappointed, as when you are in front twice, you have got to avoid making certain mistakes in defence," Garcia said.
"We were weaker at the back than usual, but that is because AC Milan have such strong forwards."
Garcia was delighted to have Francesco Totti back in the squad.
Totti, who had been sidelined for two months with a hamstring injury, returned to play on Monday when he came on as a second-half substitute.
"We knew that Totti did not have a full game in his legs so he played only in the second half," Garcia said. "It's really great news the captain has returned, as with him we are even stronger."
Roma, who are three points clear of third-placed Napoli, end 2013 at home to Catania on Sunday.
The Eternal City giants have a showdown at Juventus to look forward to in their first game of the new year on January 5.
"Now we must remain focused and try to win our next game with Catania," Garcia said. "I'm not focusing on the standings right now.
"I only like looking at the league table when we win every game.
"What matters now is to have a great game at home and after the break we have all the time to think about the match in Turin."