A Tottenham fan is seriously injured after being attacked by Lazio supporters in Rome
A Tottenham fan is seriously injured and several others needed hospital care after being attacked by Lazio 'Ultras'.
Last Updated: 22/11/12 6:34pm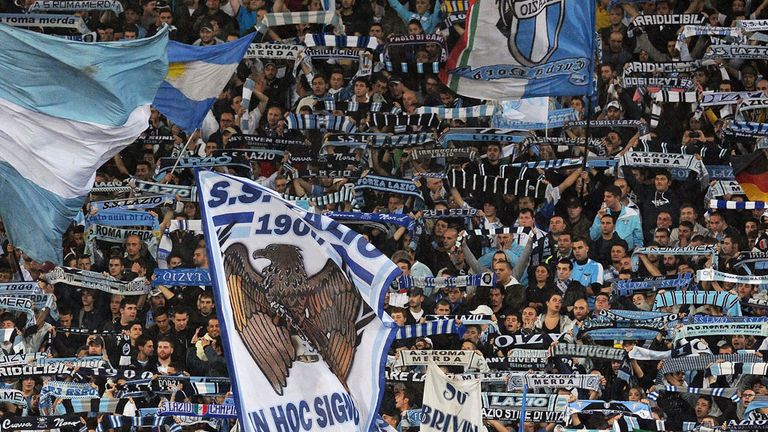 Violent clashes erupted after 1am on Thursday morning when around 50 'Ultras' attacked a group of Spurs fans at the Drunken Ship pub in the Campo de Fiori.
Nine Tottenham supporters, aged between 20-60, were left wounded with one critically ill after being stabbed.
The Lazio fans, who had their faces covered by motorcycle helmets or scarves, were armed with knives, baseball bats, belts and knuckle dusters, according to reports.
A Tottenham spokesman said: "We understand from local police that nine of our supporters suffered injuries last night following an incident in the city centre.
"Three of these supporters were taken to hospital for further treatment. We continue to seek further information and are liaising with both Italian and UK police on this matter."
Marco Manzi, landlord of the badly damaged pub, said: "The bar was full of about 30 English supporters at 1am. Most of them were aged between 40 and 50 and they were well behaved.
"Then arrived what I presume were Italian supporters wearing scooter helmets with their faces covered with scarves, carrying stones and rocks.
"Some of the English supporters tried to escape down Via dei Cappellari and it was in this street where one of them was hit by a knife.
"I think he was quite badly hurt but I don't know any more about him.
"The whole operation from start to finish was over in around 10 minutes. Most of the fans left and the police arrived."
Police made a number of arrests at the scene and a spokesman for the Foreign and Commonwealth Office confirmed they are investigating.
A police spokesman said: "A group of about 40 or 50 people in motorcycle helmets or with their faces covered were armed and attacked the group of English football fans drinking in Campo de Fiori square."