Giancarlo Abete has condemned the attack on Tottenham fans
Italian football federation chief Giancarlo Abete has apologised to Tottenham fans.
Last Updated: 23/11/12 6:27pm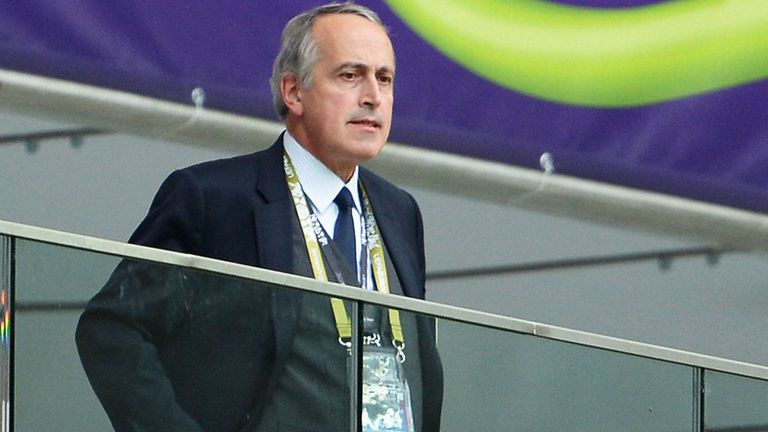 Spurs were in the Italian capital for a 0-0 Europa League draw with Lazio but the occasion was ruined when fans of the London club were attacked in a bar by around 50 masked hooligans in the early hours of Thursday morning.
Eleven people were injured in the assault and two Italians, believed to be fans of AS Roma, have since been charged with attempted murder.
During the match itself, Lazio fans chanted "Juden Tottenham" ("Tottenham Jews" in German), because Spurs have a historical Jewish connection.
In a letter addressed to FA chairman David Bernstein, Abate said: "I have already had the opportunity to publicly express my condemnation and outrage at what has happened.
"We would like to extend our apologies to all of the Tottenham fans and, in particular, to the families of the people involved.
"We are following the investigation closely and remain at the disposal of the authorities to help take this case forward."
And Abate has no doubt what lay behind the attacks and the chanting.
"Once again, unfortunately, football has been used as a vehicle by mindless thugs to express their racist and anti-Semitic views," he said.
"This was unquestionably the motive behind this attack, which has damaged the image of our football and does not reflect the real tradition of warmth and hospitality in the city of Rome."